Kim Rhode Secures spot on 2016 US Olympic Team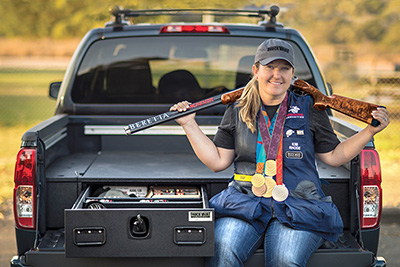 TruckVault-sponsored shooter and member of the USA Shooting Team Kim Rhode, has once again qualified for Women's Skeet in the Olympic Games. Rhode finished the qualifying event in Tillar, Arkansas, besting her nearest competitor by 16 points. As part of Rhode's success and in honor of the 2016 Olympic games, TruckVault is kicking off a series of shooting tip videos called "Quick Shots" hosted by the Olympic gold medalist.
Rhode returns to the summer games as a five-time Olympic medalist and is the defending gold medal winner for Women's Skeet at the London games. She is the first U.S. Olympian to win medals at five consecutive Olympic Games in an individual sport and will be the first U.S. Olympian to compete on five different continents. Her career has not been easy and Rhode attributes practicing proper shooting techniques as a key to her success.
Full press release: The Outdoor Wire