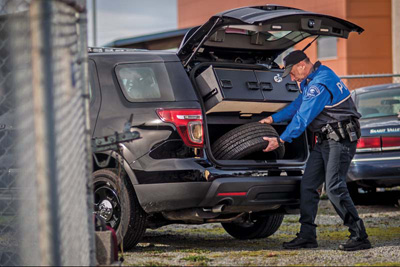 Law enforcement agencies around the United States are converting their patrol fleets to the new Ford Police Interceptor version of the Ford Explorer. It has become one of the most popular SUVs on the market. The Ford Explorer presents a challenge for lockable storage in the cargo area due to the placement of the spare tire and its role in the rear crash safety requirements for the vehicle.
Utilizing an innovative bracket installation system, TruckVault's Lift Technology allows placement of a full-sized TruckVault unit in the Explorer while retaining quick access to the spare tire without hassle.
The TruckVault Lift System uses air-assisted cylinders to aid in lifting the entire unit out of the way, allowing access to the spare tire without removing the TruckVault. The simple design with an all-steel construction is engineered for heavy service to last the life of the vehicle. TruckVault can customize the size, number, and orientation of the drawers of the unit to create virtually any configuration.
The Lift System is compatible with all Ford Explorer models 2011 and newer. Base unit MSRPs begin at $495 for the Explorer PPV Pursuit and $595 for the civilian version.

Full press release: The Outdoor Wire