How Firearms Instructor Michael Baccellieri keeps his gear secure using TruckVault
written by Alex Brouwer
Michael Baccellieri is, at heart, a teacher, and at the top of his class supplies list are sniper rifles, suppressors, and military-grade night vision. His curriculum? Intense, but thorough. Students come away from the program knowing their subject like the back of their hand. If students show up, he shows up for them.
For years, though, Baccellieri, known to those in the industry as "Buck", was himself a student. His eleven years of military service were split between the National Guard, the Army and the Marine Corps. After a seven year stint in civilian life, he returned to the National Guard and was subsequently invited to teach sniper school at Fort Chafee, a renowned hub for sniper training and competition near the western border of Arkansas. In 2014, Baccellieri was brought on to Leupold & Stevens as the Lead Optics and Firearms Instructor to build the Leupold Optics Academy. This role included traveling across the country to provide firearms training to agencies, mostly law enforcement and military, that hired Leupold to train their people on firearm usage and bring them up to speed on best practices as they adjusted to new optics standards in the sniping industry.
Soon enough, however, he encountered one particularly tiring problem. After long days out on the range, he would have to load up all his gear, trek back to his hotel, and haul each piece of equipment - rifles, suppressors, ammunition, etc. - up flights of stairs to his room where he would keep them overnight for security. The next morning, sometimes as early as 4 a.m., he'd turn into a pack mule again to get his gear down to the truck. This process would repeat for days, all in the name of safety.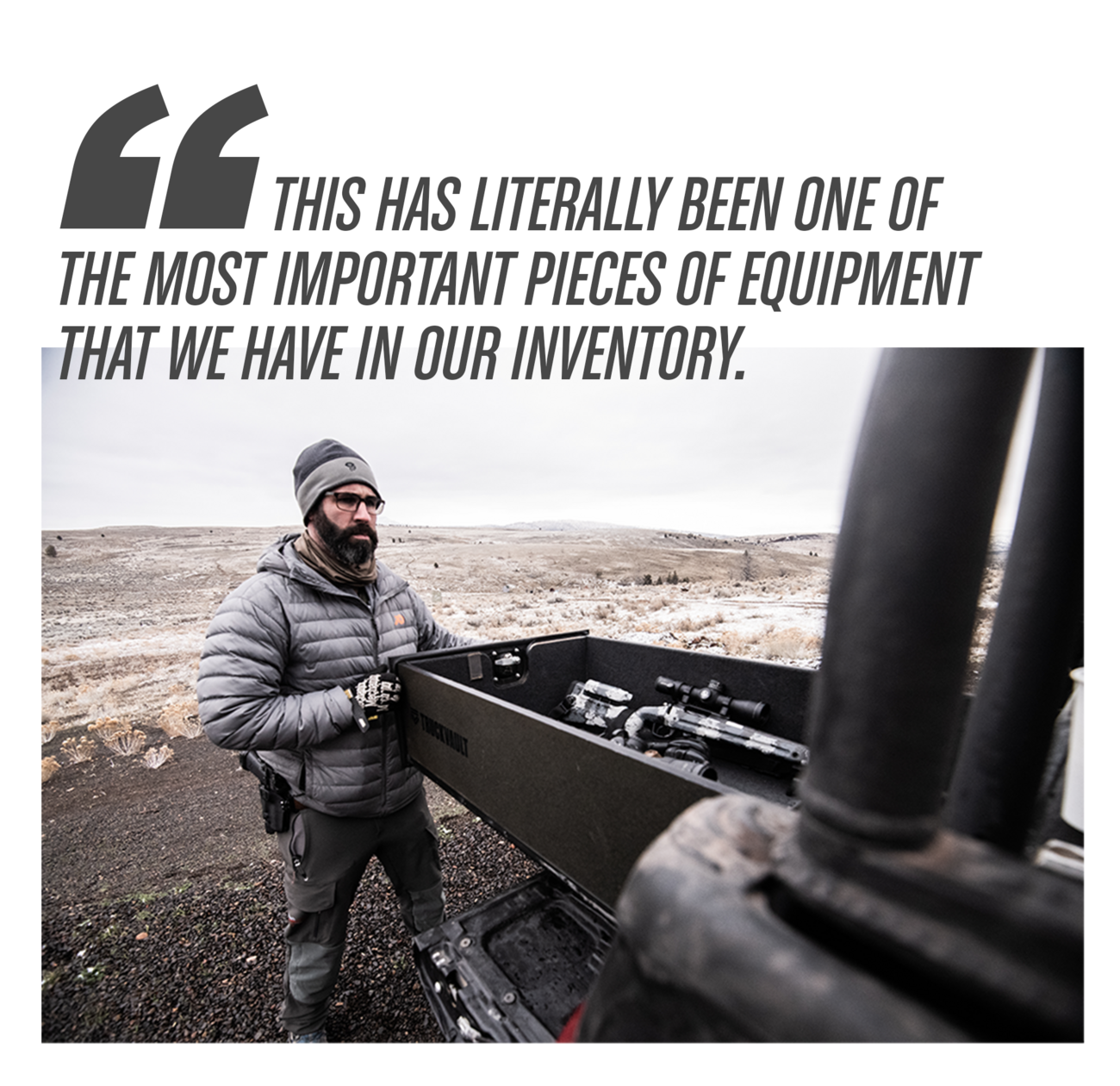 Baccellieri understands better than anyone the importance of keeping firearms secure - he faces that reality every day. But for him, it's less about the cost of a gun than it is about the ripple effect of ramifications if sensitive gear, like firearms, are stolen. "Think about all the other fees that can come into play without secure equipment," he said. "We [firearms instructors] don't bat an eye at what a gun safe costs to put in our home but this is our gun safe for us, to make sure our career is secure."
Secure firearms storage is a matter of job security. It's a matter of liability. And the sad reality is, if a weapon like this is found in the wrong hands, it could be a matter of life or death.
Enter TruckVault secure in-vehicle storage systems. After a few years of wrestling equipment to and from hotel rooms, Baccellieri was able to install a vault system in the back of Leupold's F-250, and it was a gamechanger. "It made life a heck of a lot easier," he explained. "Not only does it make you more proficient and efficient as an instructor, but it maintains the security of all your gear." His vault is magnum height, so it's spacious enough to house even his tallest rifles. It's a two-drawer system with offset drawers, which means one drawer is wider than the other. Baccellieri stores his class equipment in that wider drawer and his personal gear in the narrower one. Leupold has a full inventory of custom-built American Precision Arms, AR-15s and Glock pistols, and with a TruckVault, he can outfit an entire class, up to twelve rifles, in one drawer and still have plenty of room for his personal items in the other. Whether at headquarters or traveling across the country, Baccellieri's gear remains absolutely secure and waterproof, which he claims is "a really really big deal."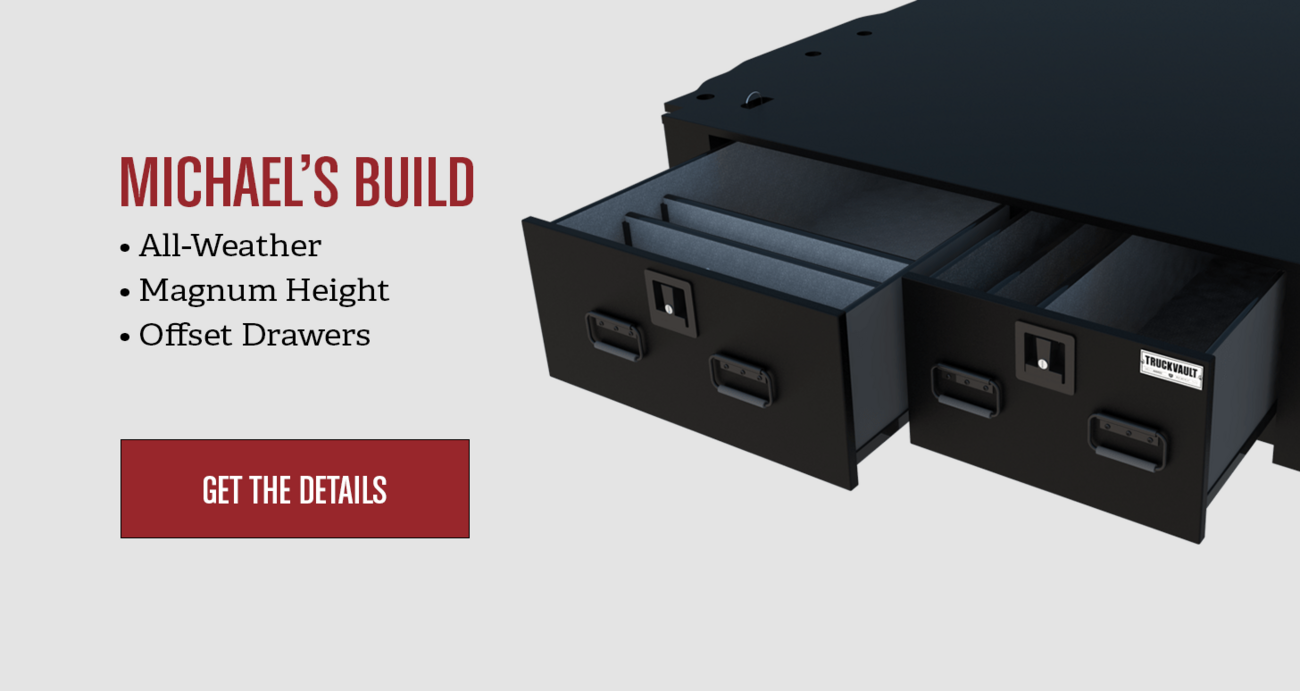 These days, Baccellieri is still at Leupold, just in a slightly different role as the Military Business Development Manager, which means he services military and law enforcement customers almost exclusively. In addition, he's currently teaching all three of the Marine Corps Scout Sniper Basic Courses every cycle, as well as the MARSOC Advanced Sniper Course. With a new title comes new responsibilities and demands for intricate training, both in the classroom and on the range. To bridge the gap between the classroom and the range, his vault showcases a flip-up whiteboard and desk system, which is just one of his favorite aspects. "There's about a dozen features in these things that make them invaluable to me," he explained.
There's actually one more thing to add to the top of the class supplies list. Amongst the mountain of top-of-the-line gear at Leupold, Baccellieri finds his TruckVault system utterly essential, saying, "This has literally been one of the most important pieces of equipment that we have in our inventory."