VOX Founder Brian King trusts TruckVault for his cross-continent mission
In 2008, Brian King found himself being rushed to a clinic in Mozambique for dysentery contracted from unclean drinking water. "It was a bucket list trip with some of my friends," he recalled. "[It] almost took my life."
During his stay in the clinic, King became aware that it wasn't just him. "As a matter of fact, about 37% of the kids in that region of the world die before age 5 from waterborne illnesses," he explained. Alerted to that reality through his own experience, Brian founded VOX United, a specialized development agency that has since provided clean drinking water to millions of people throughout sub-Saharan Africa.
King grew up in a car family, helping his late father, Herschel, with car projects ever since he can remember. In tribute to his father, King decided to combine his love for cars with his love for people, building out the best overlanding vehicle possible - appropriately named the "Hersch X" - designed specifically to aid the work of VOX throughout Africa. In 2023, they'll be taking the road trip of a lifetime, driving from Europe to the southern tip of Africa to spread awareness of the water crisis throughout the continent and raise support for their mission.
"Growing up, my dad taught me that if you're going to do something, give your best, give 100%, and we've carried that on into the work we do with VOX." he said. "So when it came to in-vehicle storage, there was no question: TruckVault was at the top of the list."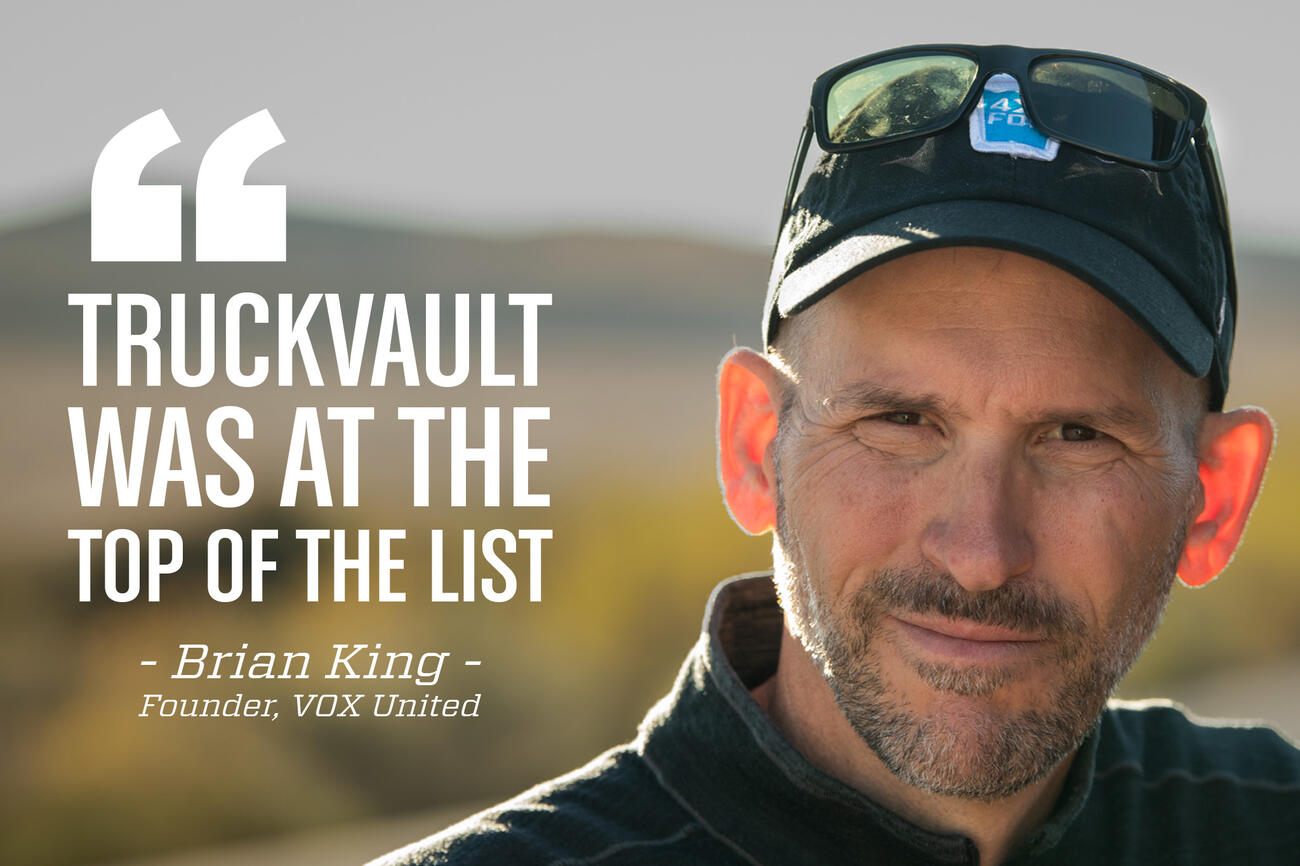 Most of all, King and his family needed secure storage and some serious weather protection for all their gear and cargo. The Hersch X is outfitted with a standard-height, All-Weather drawer system engineered to withstand the possibility of theft and the guarantee of storms, not to mention plenty of dust and dirt. Essential to their mission is keeping their well-drilling gear, electronic equipment, and personal cargo completely safe, which meant TruckVault was the perfect addition to the build. "Security is an issue where we're going," King explained. "Having that peace of mind knowing that this equipment, whatever it is that we have inside, is going to be secure is huge."
Be sure to keep up with the Hersch X adventure and support the work of VOX by participating in their 4XFor challenge to raise $1 million for clean drinking water in Africa.
BUILD YOURS