LET TRUCKVAULT DO THE HEAVY LIFTING
The safety of officers protecting citizens has seen an unprecedented increase in risk over the last two years. From high turnover rates to limited funding, officers and their departments have needed to adapt how they approach tasks and training in creative ways. TruckVault provides officers unique opportunities to secure an abundance of gear while maintaining and even improving different aspects of their job performance.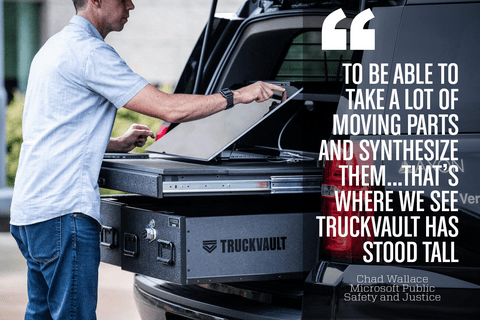 1. SECURITY
From firearms to drones and more, departmental gear is always a priority to preserve. Agencies like the Atlanta Police Department have instituted fines and other consequences holding officers responsible for the loss of their firearms. Our locks and unit durability offer additional safeguards from misuse or loss of gear. Police 1 thoroughly explores the possibilities of protection TruckVault offers law enforcement personnel.
2. OFFICER SAFETY
TruckVault's Drone Responder Line limits the amount of fieldwork a unit may need to undertake in high-risk scenarios. Allowing the drone to get the lay of the land and report it back to our quick-deploying monitors helps teams communicate more effectively. With the health and wellness of our officers at an all-time importance, the more we can limit the risks officers encounter, the safer they will be.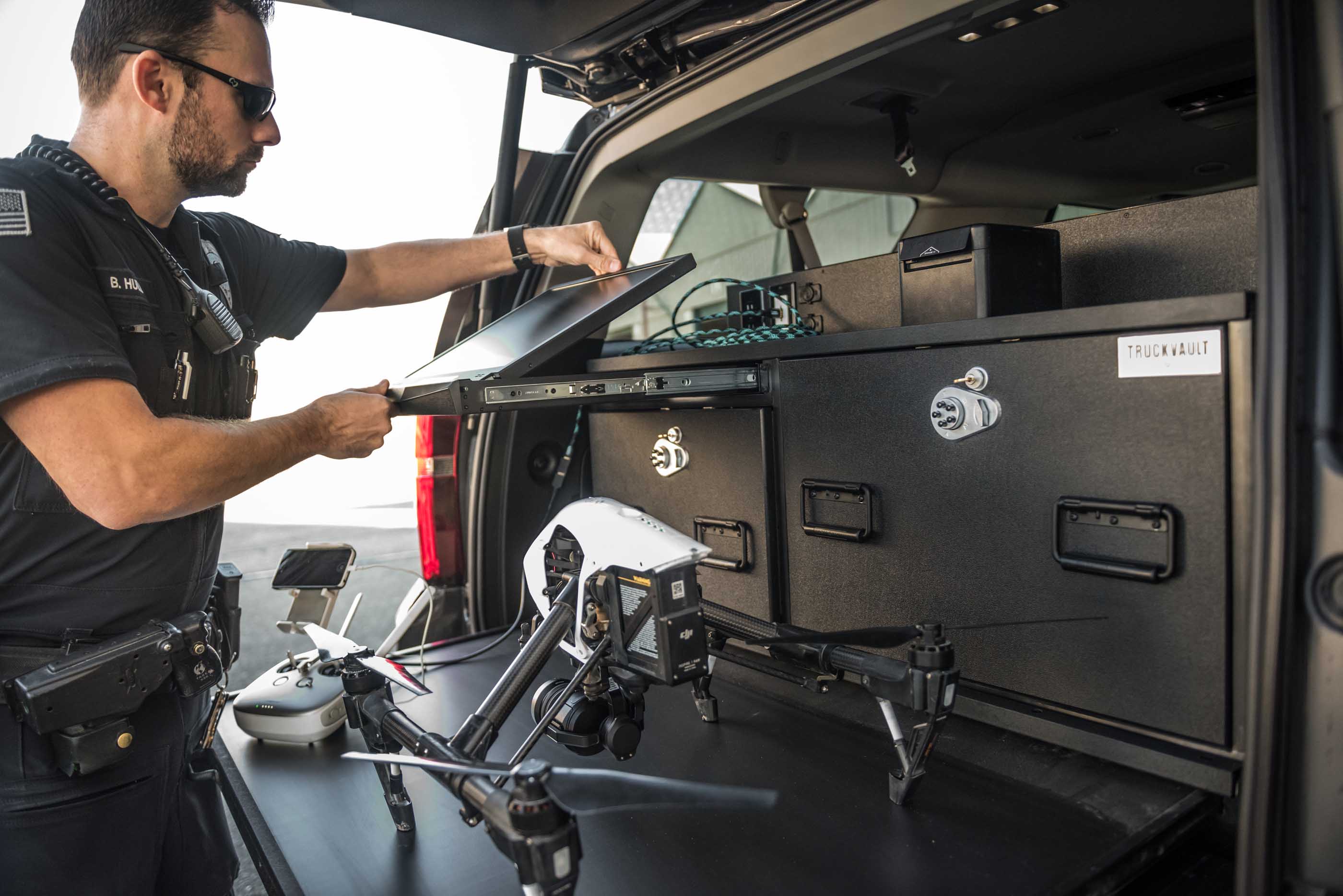 3. INCREASES LONGEVITY OF GEAR
Agency funding has been a hot topic among departments over the past few years. As changes to budgets are made, gear becomes more important to protect and preserve. TruckVaults improve the lifespan of gear by preventing unnecessary wear and tear. Gear can be secured in the units and won't jostle around while driving. One of the biggest complaints we hear about competitor storage solutions is that they don't protect against dust and debris buildup. TruckVault eliminates any gaps around the drawer opening to prevent buildup from ruining stored weapons or tactical gear.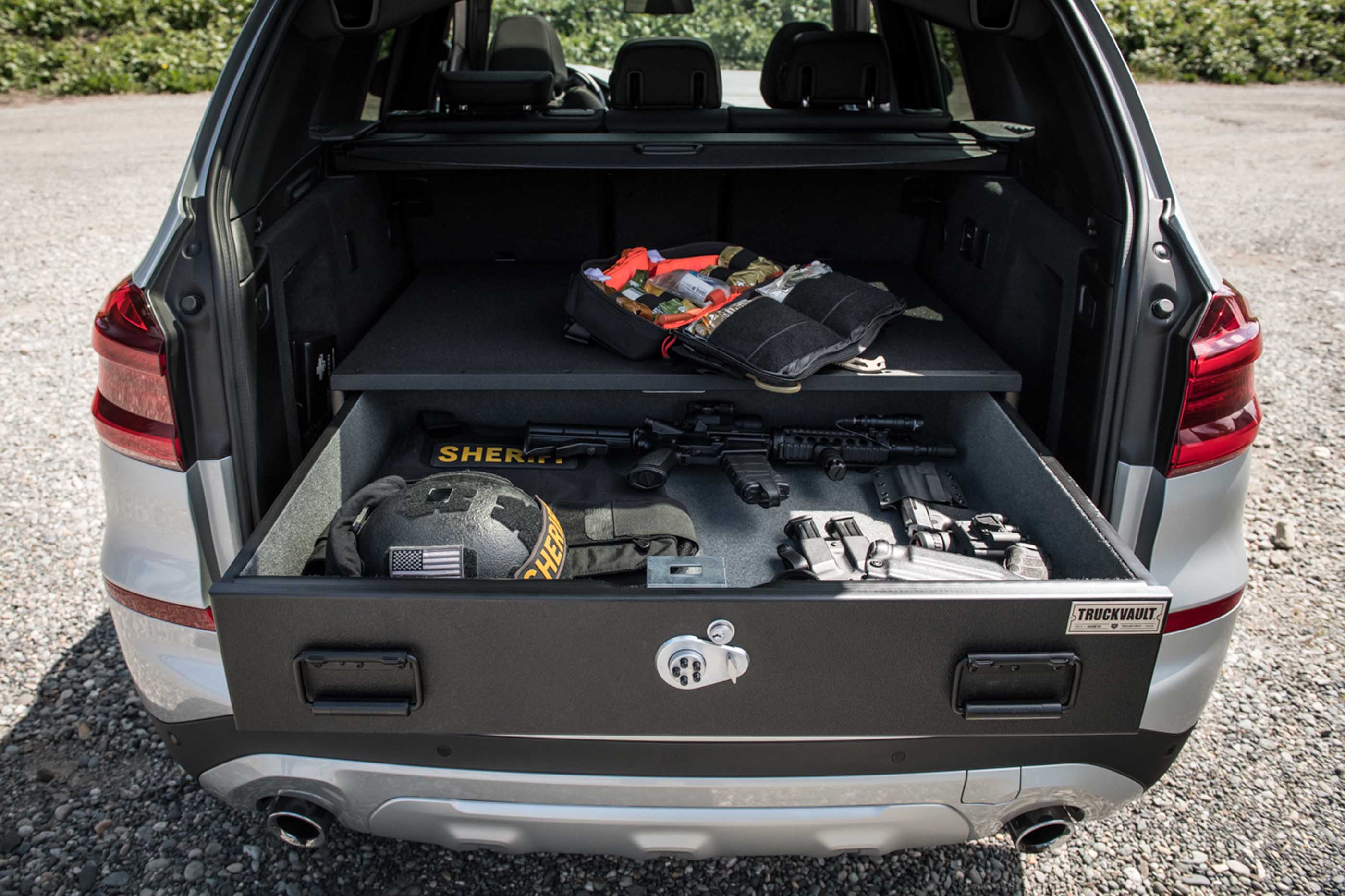 4. IMPROVED RESPONSE TIME
Know where the gear is and what gear is on hand with TruckVault's assistance. The less time officers spend sorting through gear to find what's needed, the sooner they can respond to an event at hand. Up to 4 complimentary dividers are available upon request with your order. Additional dividers or foam inserts can aid organization efforts.
5. SMALL FOOTPRINT, BIG IMPACT
Many agencies have experienced an exodus of officers leaving the force, leaving smaller teams to manage growing caseloads. TruckVault enables these small team to quickly mobilize a command center when needed. Custom Drone Vaults and Command Vaults come with a variety of accessories and tools like on-board electronics for radios, laptop and battery charging abilities, and pull-out tables and white boards. These small command centers also enable agencies to get to more remote incidents than larger counterparts. Creating accessible mobile command centers enables agencies of any size to deploy appropriate personnel and keep up with the increased use of data-driven management.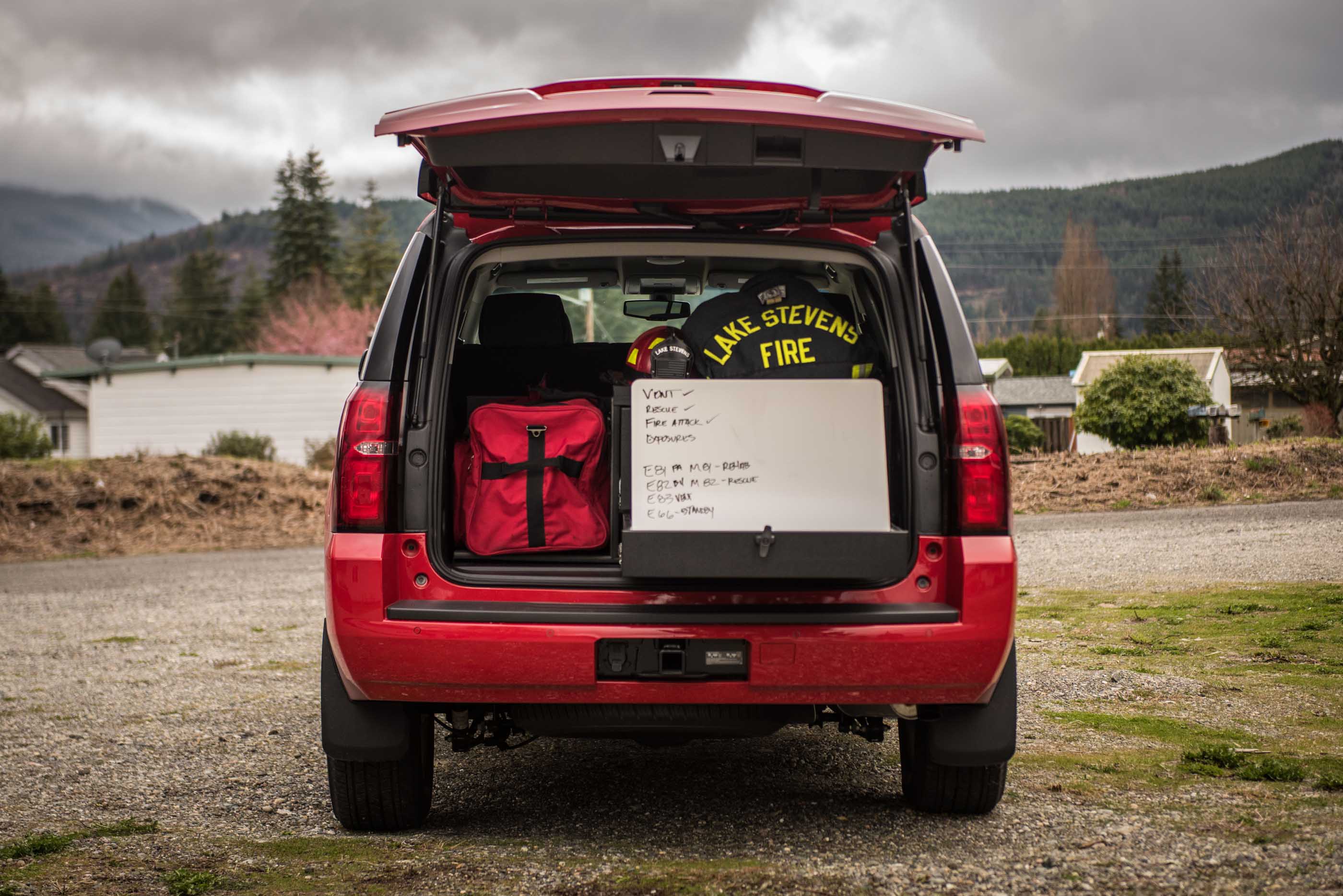 6. CUSTOM SOLUTIONS FOR UNIQUE NEEDS
From Game Wardens to Undercover Officers, to Patrolmen. Every role is different. While we offer a variety of standard models for different vehicles, each unit can be customized to the need of the job. Our expert team of Public Safety Managers are familiar with the different demands departments encounter and can make recommendations based on the gear hauled, or the task intended for the vehicle.
TruckVault is here to help the agents helping our communities by ensuring the tools they need are accessible when necessary, and secure when not.