It's our worst kept secret:
We can make a secure in-vehicle storage system for virtually any vehicle on the road, be it a truck, SUV, van or sedan. So when you ask us, "Can you make one for my ________________?", the answer is almost always yes, whatever you fill in the blank with.
Part of what makes us unique as a company in this industry is our emphasis on customizability. We're proud of the fact that our TruckVault systems can be made for anyone, regardless of their situation or need. No offense to our competition, but they can't say the same - customizability is our forte. We are enabled to do this because we have a dedicated team of creative engineers who work with customizable materials to ensure that you get exactly what you need for your vehicle, profession and lifestyle.
Gooseneck trailer hitch? Yep. Tesla Model Y? Sure. Overlanding van? Absolutely. Even if you don't see your vehicle on our website, it's very likely we can make a TruckVault secure storage system for it. If your vehicle has some custom modifications, we can make a custom TruckVault to meet those modifications.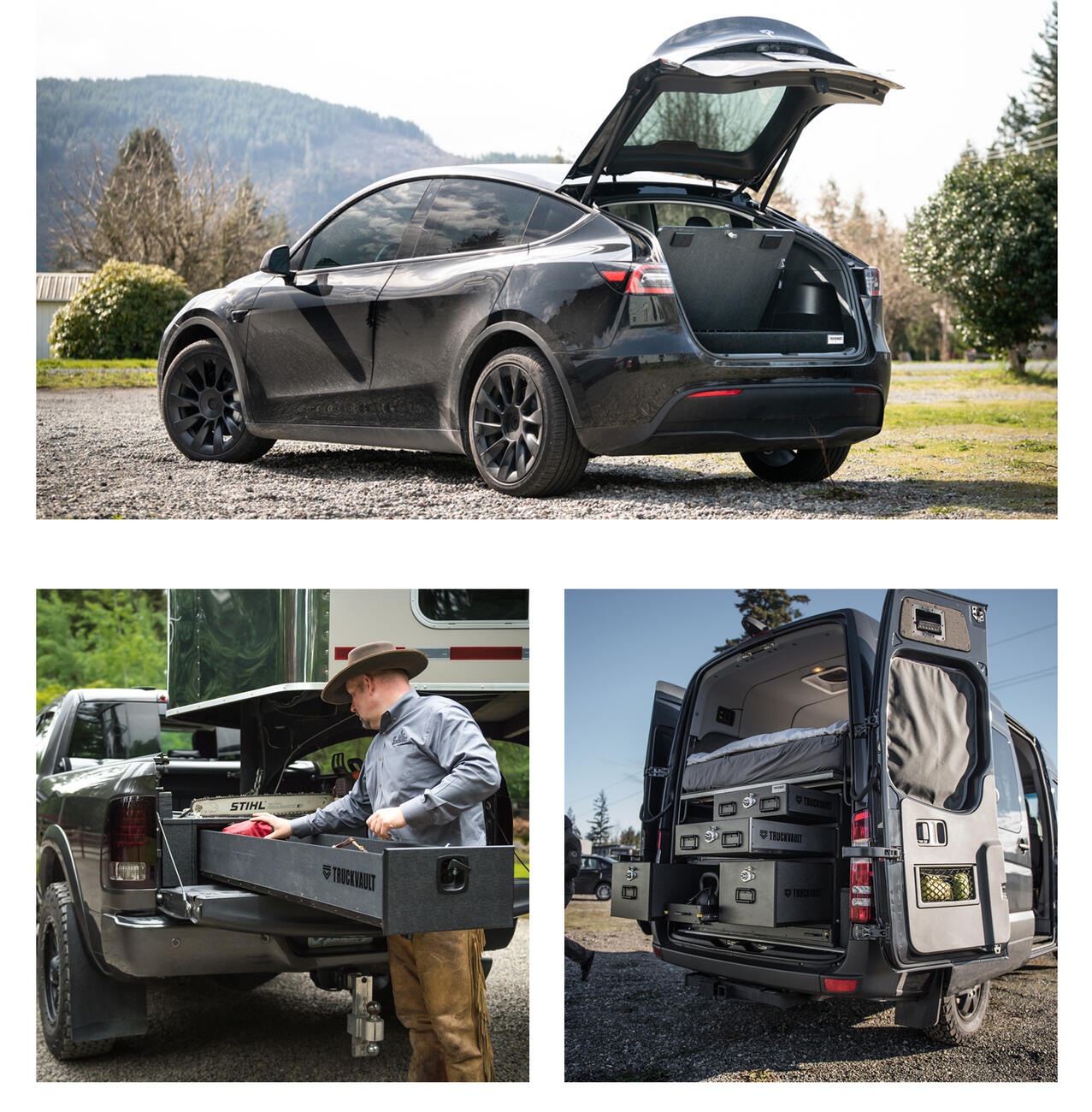 With a TruckVault, your firearms are secure. Whether you need a concealed gun safe in your cab or a secure gun storage system in your truck bed, we can work with you to find the perfect solution. If you want to outfit a hunting truck, need tactical gun storage, or are working towards secure firearms transportation for your law enforcement department, we'll make it happen.
But our systems can be made to accommodate just about any lifestyle or vehicle – we're not just about firearms, and we're not just a truck bed storage box. Our customers come from all sorts of backgrounds and have used our products for photography, archery, chainsaws, camping equipment, and much more.

To top it all off, each drawer is customizable, from modified drawer layouts to height to custom wood finishes. Not only can you own a TruckVault, you can truly make it your own.
There are exceptions, of course, to what we can create, but they are few, and it's been rare that we have reached our ceiling. The only real limit to what we can make is our customers' imagination, and, to be honest, we think you've got a pretty good one. We welcome all your build suggestions and would love a new challenge.