To put it mildly, the year 2020 has been tumultuous. Our lives have been turned upside down in one way or another by the COVID-19 outbreak. With business and school closures, gym closures, quarantines, travel restrictions, border closures and everything else going on its no wonder we feel a little stir crazy and are looking for ways to get out and stretch our legs.
One thing we are certain of, it is healthy that we get out of the house and into our wide-open spaces. A trend we have seen in our build process here at TruckVault that has been growing over the years has been in the camping and overlanding arena. What is overlanding? Basically, it's a self-reliant mode of adventure travel to remote destinations that can extend to months or years. Think: camping on steroids with the journey being the purpose.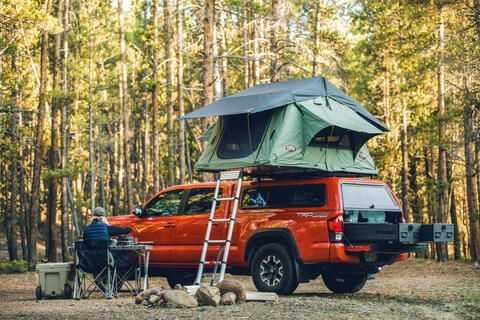 There different types and levels of this kind of exploration of the great outdoors. Some others that come to mind would be car camping, backpacking, 4X4'ing, expedition (vehicle) and the like. All are ways we can get out and enjoy this great country, get a big breath of fresh air, all while practicing the social distancing that is asked of us as responsible residents of our planet. Oh and while you are out and about there is one other benefit, no mask required!
There are all kinds of vehicles on the market today that have been produced either specifically or not for this sort of adventure. Basically, any SUV or pickup can be set up to get the job done. What we have seen more and more of however is the Sprinter Van builds. Just about any major vehicle manufacturer has an offering in this platform. The big appeal to these vehicles is the room they provide inside for amenities sometimes not found outside of a public campground.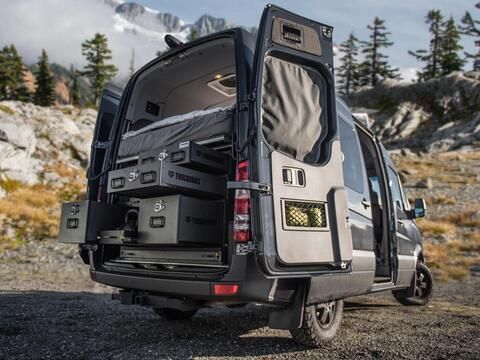 One of the more recent builds we did in this category was for a publication called DUB Magazine. I will provide a couple links to this build that will help show not only what we can offer at TruckVault but what other items you may want to consider in your build depending on how far you want to take things. A lot of what we see are complete "home away from home" builds that can set up a family or individuals to be on the road exploring indefinitely. Just as a note, there are so many varying levels of builds for all types of vehicles from entry level to exotic as I have shown here. We build for any make or model of vehicle on the road and do custom builds if you have something unique in mind. A simple call to our sales team will get you on the road to a lifetime of enjoyment in our great outdoors.
Another example of someone who we have worked with for a number of years and on several different iterations of her van vehicle builds is Professional Photographer Sara Liberte. She spends the greater majority of her time on the road with her constant companion Jasper. You can find her on Instagram at https://www.instagram.com/van_solo_/ Tell her Don Fenton at TruckVault sent you her way and she will be happy to share details of her build.
So go on and get outdoors, there's only so much of 2020 left and you don't have to let it waste away!