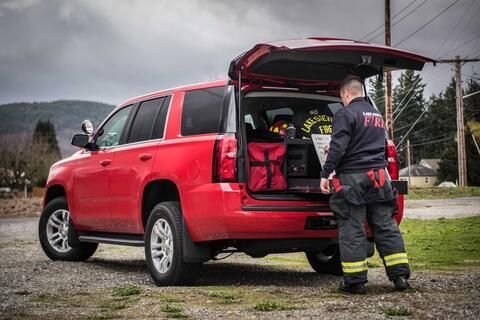 The ever-evolving landscape of 21st-century technology affects the public as well as those who serve and protect it. First responders need the flexibility and access to necessary tools and equipment to appropriately respond to events as small as brawls at the county fair or as large as natural disasters. That's where Mobile Command Centers (MCCs) save the day.
What does a Mobile Command Center do?
MCCs provide a hub for communication and decision-making during emergency response. By putting a well-equipped office on the road, responders get the opportunity to make more informed decisions based on first-hand knowledge at the scene. Responders can also employ tools and resources stored in their command center to assist in their response without having to wait for those items to arrive from the department.
An MCC also provides rapid response in otherwise difficult-to-access locations like sporting events, county fairs, or remote locations. It can already be onsite with essentials like first aid and departmental communication abilities.
When is a Mobile Command Center required?
This often comes down to the discretion of Fire Chiefs or Assistant Chiefs on when to deploy an MCC. Most often, though, they're used when equipment and personnel need to be deployed for an extended period. Events like Hurricane Katrina in 2005 prompted federal agencies to reassess local and federal emergency response standards. As a result, many federal grants, like those from the U.S. Department of Homeland Security have made mobile units more attainable for departments of all sizes.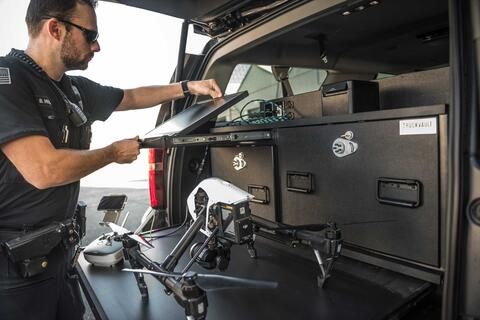 MCCs are regularly employed during large-scale events like football games and conventions, SAR efforts, and natural disasters. One of the most prominent examples would be the 2018 wildfire response in California. Multiple units responded to the event and relied on MCCs as central hubs for communication and supplies.
Why should fire departments have a Mobile Command Center?
Decrease response time
Equip personnel with necessary tools on location
Provide access to difficult-to-access locations
MCC's are invaluable assets for any size department because they decrease response time and increase the productivity of first aid and onsite assistance. They are great for disaster response because they allow for regional cooperation. They are great for establishing a proactive presence at high-traffic venues like sports arenas which would be difficult to access mid-game.
If a fire station is inaccessible or damaged from a disaster, MCCs provide the opportunity to move the main office out of harm's way.
Not all mobile units need to be as massively outfitted as THOR from Washington, D.C.'s Office of Unified Communications. Many can fit in department SUVs, like TruckVault. MCCs are designed to serve the needs of departments that may need equipment to be sheltered from weather or powered when in use. They are often customized to fit the individual needs of each department.
How can TruckVault Mobile Command Centers help fire departments?
Smaller units are more manageable and attainable for any size department
Work for any vehicle in use by the department
Customizable features ensure the MCC works for the department and its tools
Smaller footprint allows for faster deployment than larger MCCs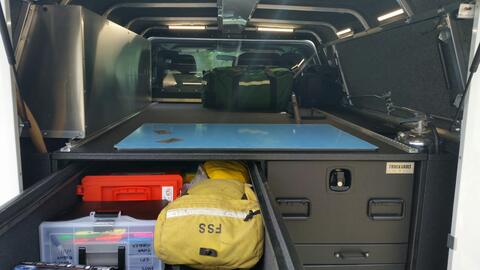 Our units are significantly cheaper than large-scale mobile units. Rather than storing everything in a 30 – 40 ft bus-like command center, TruckVault command centers are made to work with department vehicles already in use.
We offer a wide variety of solutions, mainly used in fleet SUVs and trucks, and have the capability of customizing each model based on individual preferences. We've also made modular units that can be moved from one vehicle to another with ease. Talk with one of our design experts for more information.
The compact footprint of our MCC designs allows for faster response times and makes it easier to access remote or tight locations since they are in standard-sized vehicles, so your team can get as close to the action as necessary.
Additionally, TruckVault prides itself on security and organization. Our locks and building materials ensure your gear is safe when not in use, and the storage compartments and power supply allow everything to be within arm's reach when onsite.
Recommended products