HUNTER-CHEF GERARD MASIH TRUSTS TRUCKVAULT AS THE BEST SLIDE-OUT KITCHEN FOR A TRUCK BED
In January of 2022, Safety's Off Guide Service partnered up with One Outdoors, Revol Entertainment and TruckVault to spend a few days hunting duck and cooking up some mean meals. The group wanted to fly out the best hunter-chef they could find, and Gerard Masih was the man for the job. In addition to hunting and cooking, Masih is a photographer and a psychiatric technician – a real renaissance man.
After limiting out on day one and getting a good haul on day two, the whole group gathered around the TruckVault to watch Gerard go to work on some Duck Breast Crostini appetizers (see recipe below). For the occasion, we had to break out our new camp kitchen system, complete with a pull-out stove-top compartment, a massive cutting board and drawers for utensils and spices. All of this is integrated into our larger camping line, which features bed platforms, lockable and cubby storage, electric outlets and more.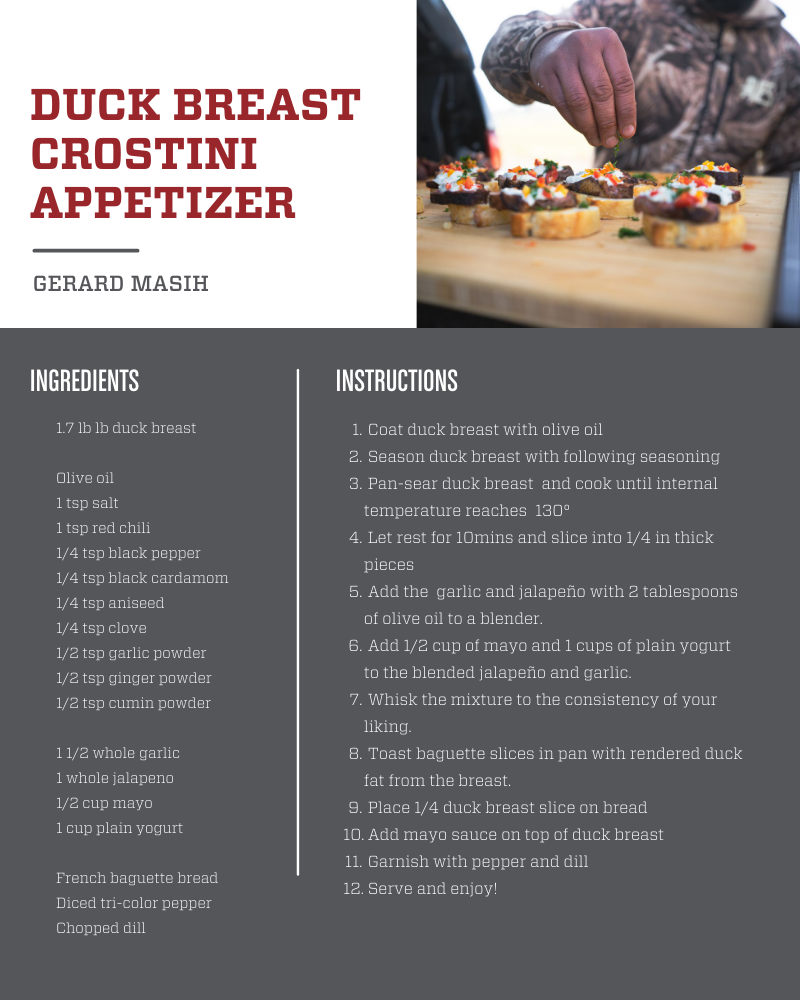 It was Gerard's first time encountering a TruckVault system, and he was certainly impressed.
"The best thing about it is it's a solid system," said Gerard. "Everything's convenient and in a nice place. I've got a place for my spices, I've got a nice big cutting board, a big surface area for me to cook on."
We designed the camp kitchen to match a wide range of needs. With the ability to house most two burner camp stoves, your vehicle becomes a traveling buffet. The cutting board is convenient not only for slicing and dicing and serving food on, but also as an additional work space for those needing a portable office area while on the road. Small drawers underneath the cutting board are ideal for utensils, cutlery, spices and any other small kitchen items you may have.
The full camp systems, releasing in spring of 2022, will include lockable storage and cubby spaces, ideal for securing firearms, camping gear, kitchen equipment and more. It's the all-around solution for hunters who camp out of their vehicle, overlanders needing spaces to sleep, cook and work, and anyone who cherishes life out on the road. And of course, as with all our products, customizability is the name of the game – we'll work to make sure you get the product that best suits your gear and your lifestyle.
As a hunter of all sorts and a chef of the highest order, Gerard understands the intersection of hunting and cooking perhaps better than anyone, and he's a big fan of the TruckVault camp kitchen. "Any outdoorsman who loves cooking outdoors," he said. "It's the perfect little thing and a must-have. It had a big built-in, bamboo cutting board for me to prepare the meal on, drawers for utensil storage, and a camp stove that all pulled out for easy in-the-field food preparation. I'm now hooked and can't wait to get one for my personal truck."