Q+A with Adorama's resident drone expert James Bushey
James Bushey is the Jekyll and Hyde of law enforcement, working full time as a Chief of Police in Wisconsin as well as traveling across the country frequently as an Imaging Training Instructor for Adorama Business Solutions. With Adorama, his job is essentially to equip departments and agencies with the drone and imaging-related gear needed in 21st century law enforcement. Bushey is the perfect fit for Adorama, having served as a public safety officer for more than fifteen years, and in that time having built his department's in-vehicle drone command centers from the ground up. Oftentimes, this meant throwing together whatever worked - that is, until he encountered TruckVault.
We sat down with James to ask him about what TruckVault offers to modern-day law enforcement, particularly through our Drone Responder product line, as well as why Adorama is partnering with TruckVault to streamline the drone command center process for departments and agencies everywhere.
---
Q: What is the significance of drones in law enforcement today, and how do you use them in your department?
A: In my police department, we have a large geographic area - it's divided up between a 26 square mile lake. So I have to go from one side to the other, wrapping around to get to the other side of my jurisdiction. So for us to be able to leverage technology to be able to get there faster…we can do that with that technology to kind of expedite that process.
And also mitigating the human risk factor. If I can put a robot into a high risk situation, where maybe it's somebody who is a barricaded subject or situations where we have drowning victims that we have to go after.
In that unknown tactical high-stress environment, we can send a robot in and let it do the heavy lifting for us, and then send the appropriate team members in after that to do the work more efficiently and safer.
Q: You said you have been building your department's drone storage solutions for a while - explain that a little more.
A: I'm in charge of equipping all our squad cars. I've actually custom-built our squad cars for quite a while because we have niche-specific systems in each one.
We used to have to rig a lot of things together. We were trying to find the power inversion and the storage capabilities and the remote viewing, [TruckVault] did everything all beautifully packaged together
We didn't have to build these kits in our garage ourselves, we could go and have one that was professionally built and well thought out and had everything we needed in one stop shop, and for less than what we were building it out for piece by piece.
It's nice to be able to go to one company and say "Hey, this is the solution I need." and "How can you do that for me?"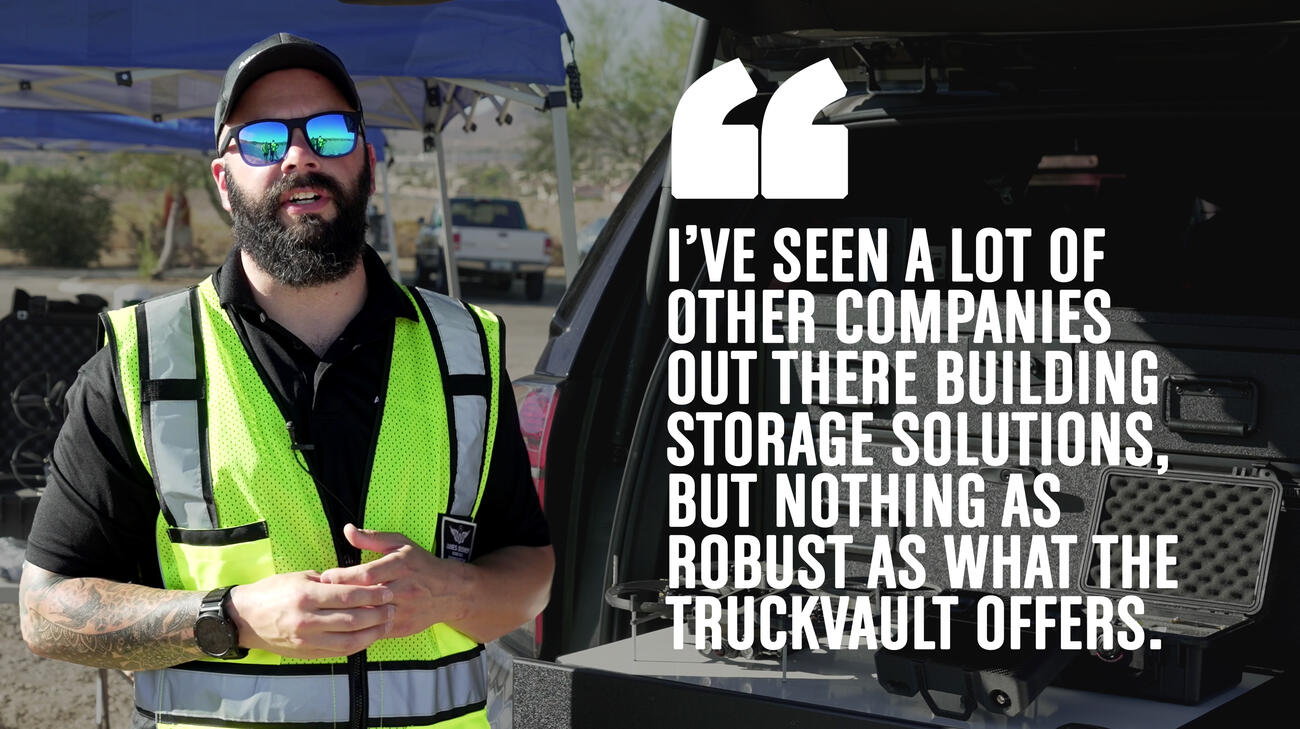 Q: What do you personally like about using the TruckVault system?
A: It's well built, it's super easy to use and totally customizable. It's rugged. It's all well thought-out.
I see a lot of other companies out there building storage solutions but nothing as robust as what the TruckVault offers.
Q: Why did Adorama Business Solutions decide to partner with TruckVault?
A: We decided to partner with TruckVault because [they] were the end solution to everything. We didn't have to go anywhere else to find anything else that we would need to create these solutions.
Q: How does this partnership help departments or agencies looking to start or revamp their drone programs?
A working relationship with TruckVault allow us to really help guide them from one end to the other. Literally start to finish, we can help them stand up their program from the storage solutions to the drones themselves.