Why TruckVaults are "invaluable" secure storage solutions
Maybe you've priced out a TruckVault system for your vehicle in our configurator, and are considering whether the purchase is justified. While you're deciding, we want you to hear from us - and a few of our customers - as to why TruckVault secure storage systems are well worth the price tag. Michael Baccellieri, Firearms Instructor at Leupold & Stevens, once said this: "There's about a dozen features in these things that make them invaluable to me." Here's 3 reasons he's right:
1. Theft Prevention
2. Damage Protection
3. Durability and Customizability
We're confident that TruckVault is the only in-vehicle storage company that boasts a perfect combination of all these elements. Not only does a TruckVault ensure the safety of your sensitive gear from theft, but from all sorts of damaging situations, including harsh weather. And yet, the product is built to outlast even your vehicle, all while allowing for unmatched levels of customizability.
Want more info? Read on.
---
THEFT PREVENTION
Face value is one thing, but the potential cost of complicity in crime is, well, exponential. Many of our customers have come to us after having their vehicles broken into at trailheads and busy parking lots, realizing just how crucial secure in-vehicle storage is in keeping you from liability. Our friend Michael Baccellieri is the Lead Firearms Instructor for Leupold, and he understands the repercussive costs of compromised gear. "If you think the price of a TruckVault is steep, think about the price of an attorney, or the price of what it would cost to get all your guns back," he said.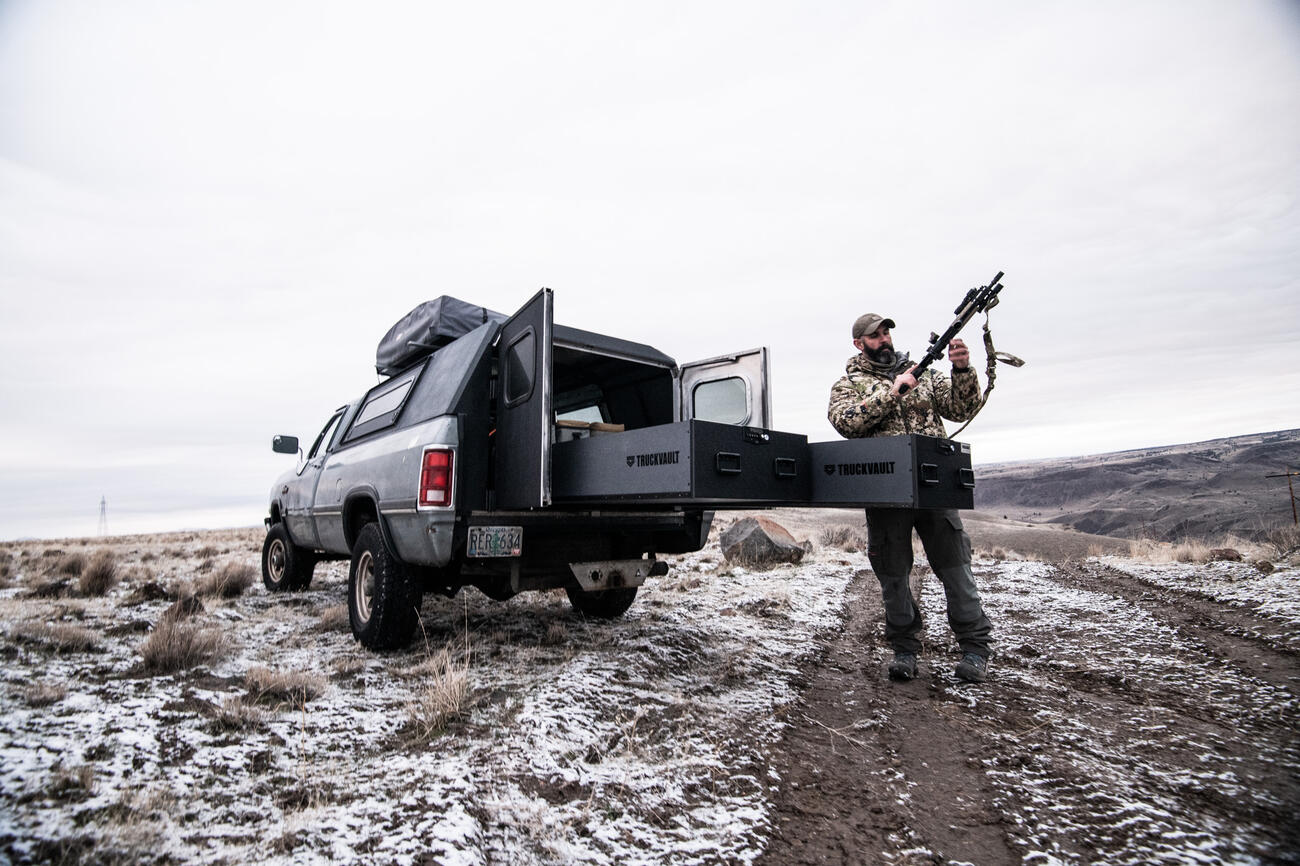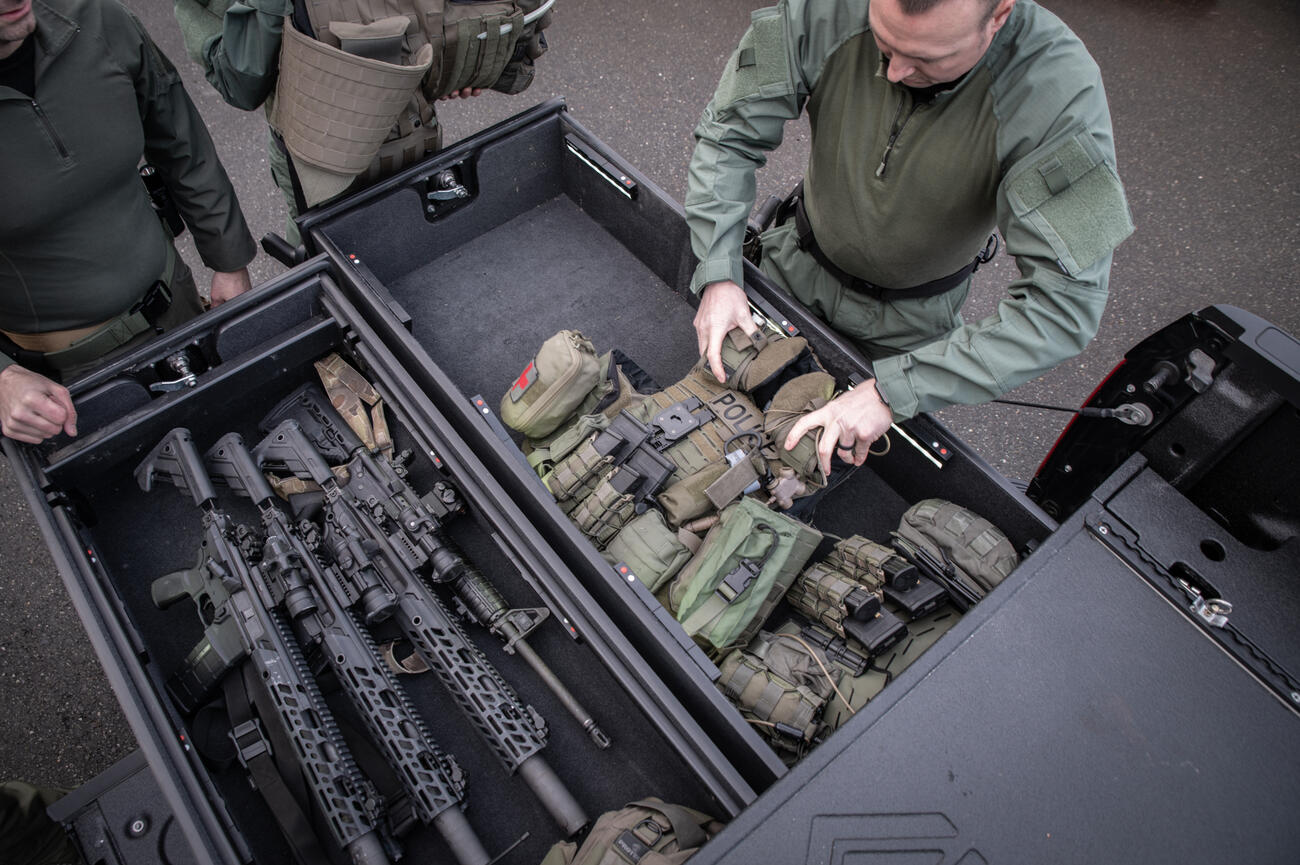 Kim Rhode, a three-time Olympic Gold Medalist, agrees, having had guns stolen out of her vehicle before buying one of our systems. "That's one of the things that happened to me and one of the main reasons why I invested in a TruckVault," Kim explained. "The one product that I depend on for my guns when I'm traveling to and from the range is the TruckVault."
If someone were to attempt to steal your gear, they would first be confronted by our locks, resort to brute force, and then, after a few minutes of trying to break in with a sledgehammer and crowbar, thieves will either give up or get found out.
DAMAGE PROTECTION
From rain to dust to rattling, there's a lot that can damage your gear. Few things are worse for firearms or photography gear than moisture buildup or dust scratching against glass. When gear gets damaged, you have to replace the part or the whole, neither of which is cheap. With an All-Weather TruckVault, your gear is completely protected against all the elements and can sit comfortably in your vehicle.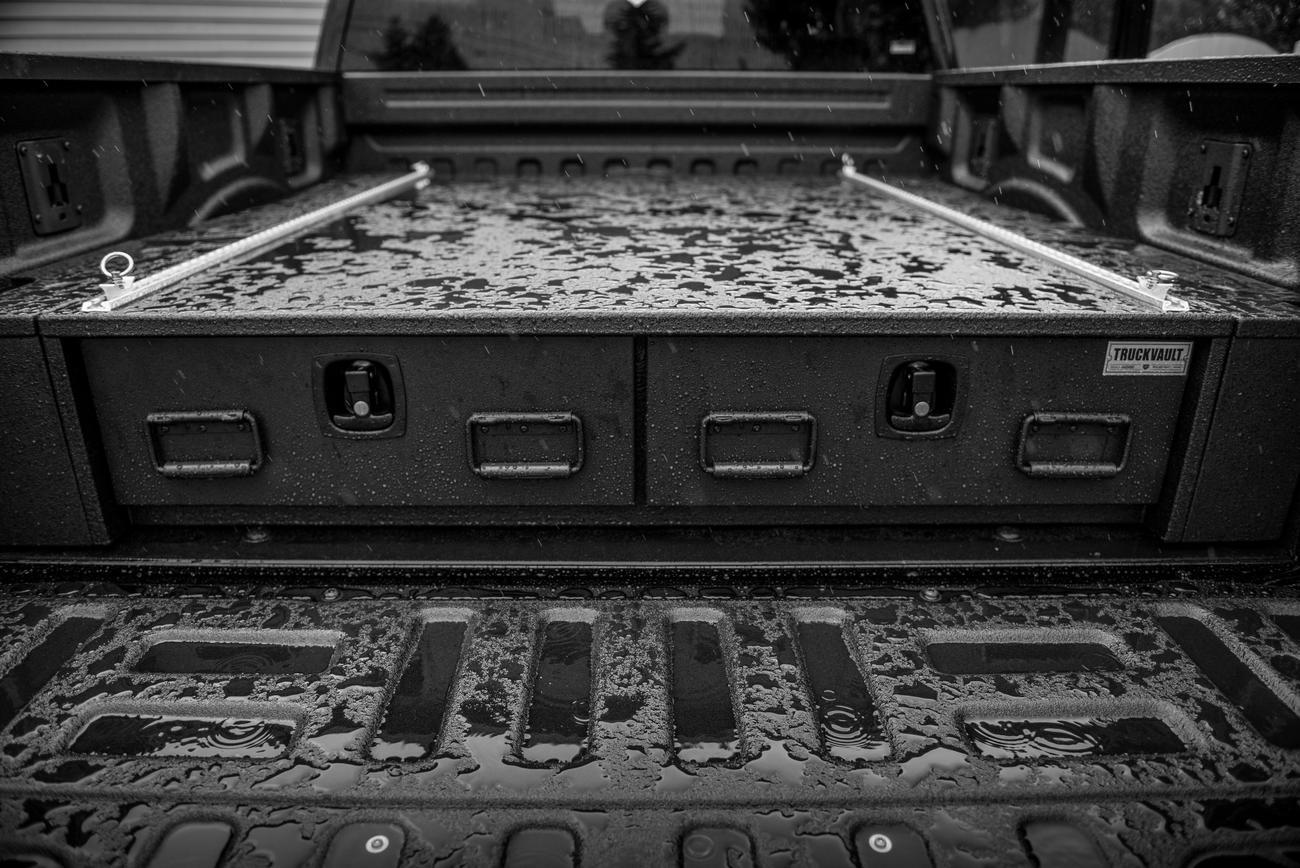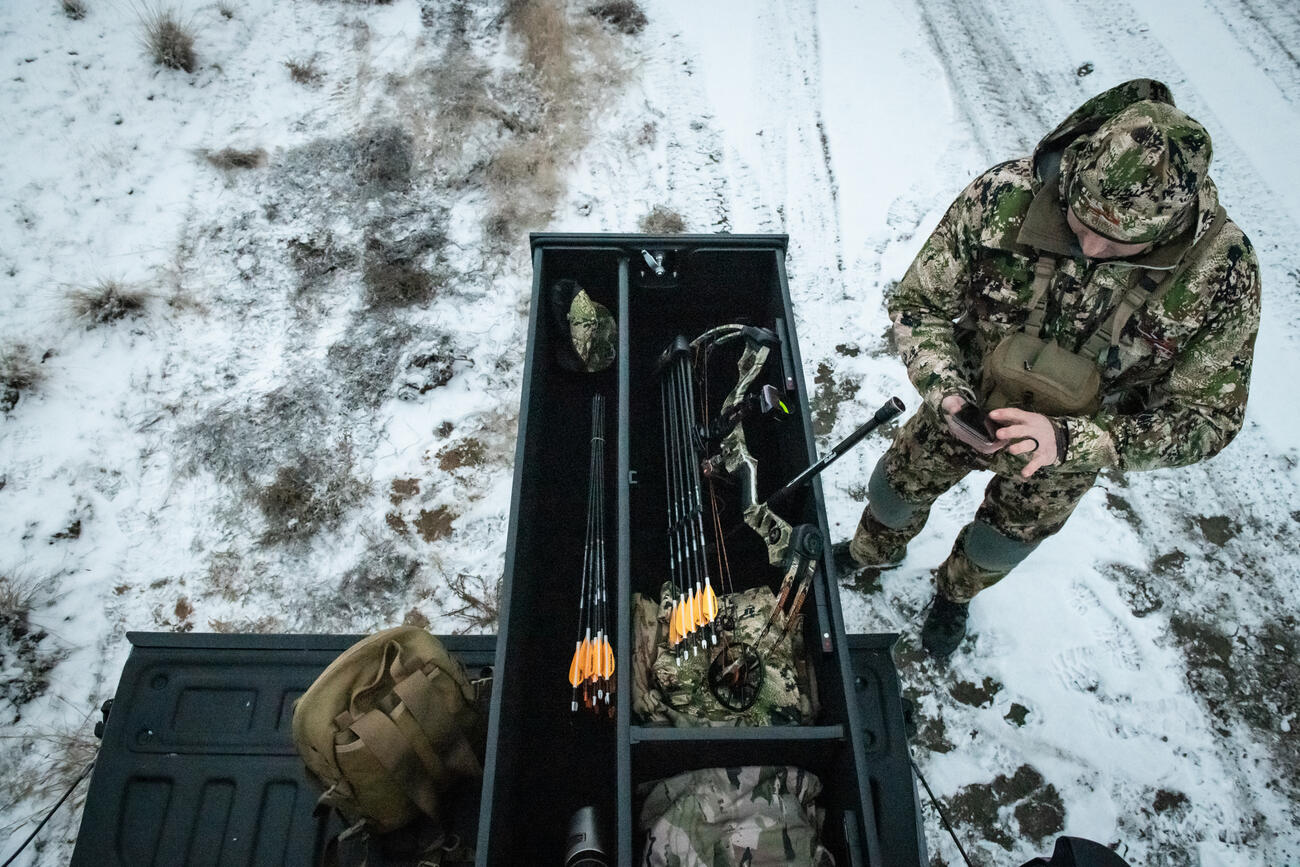 We've put our products through some serious fitness tests over the years, pushing them to their limits. We've set them on fire, submerged them in water, stuck them in truck-sized ovens, put more than 300 pounds of gear in the drawers, sprayed them with mud, and stacked 2,000 pounds on top, and found that our gear remains unscathed.
DURABILITY AND CUSTOMIZABILITY
TruckVaults are built to last, which means that you won't have to buy a new storage system every couple years just to keep your gear safe. Baccellieri calls it a "buy once, cry once" mentality, and the last thing we want is for you to cry two or three times. Because of that, we've crafted our systems with the best materials possible, ensuring the greatest durability and strength while maintaining unmatched levels of customizability. All our products are made-to-order, and our goal is to get you the product that fits your needs.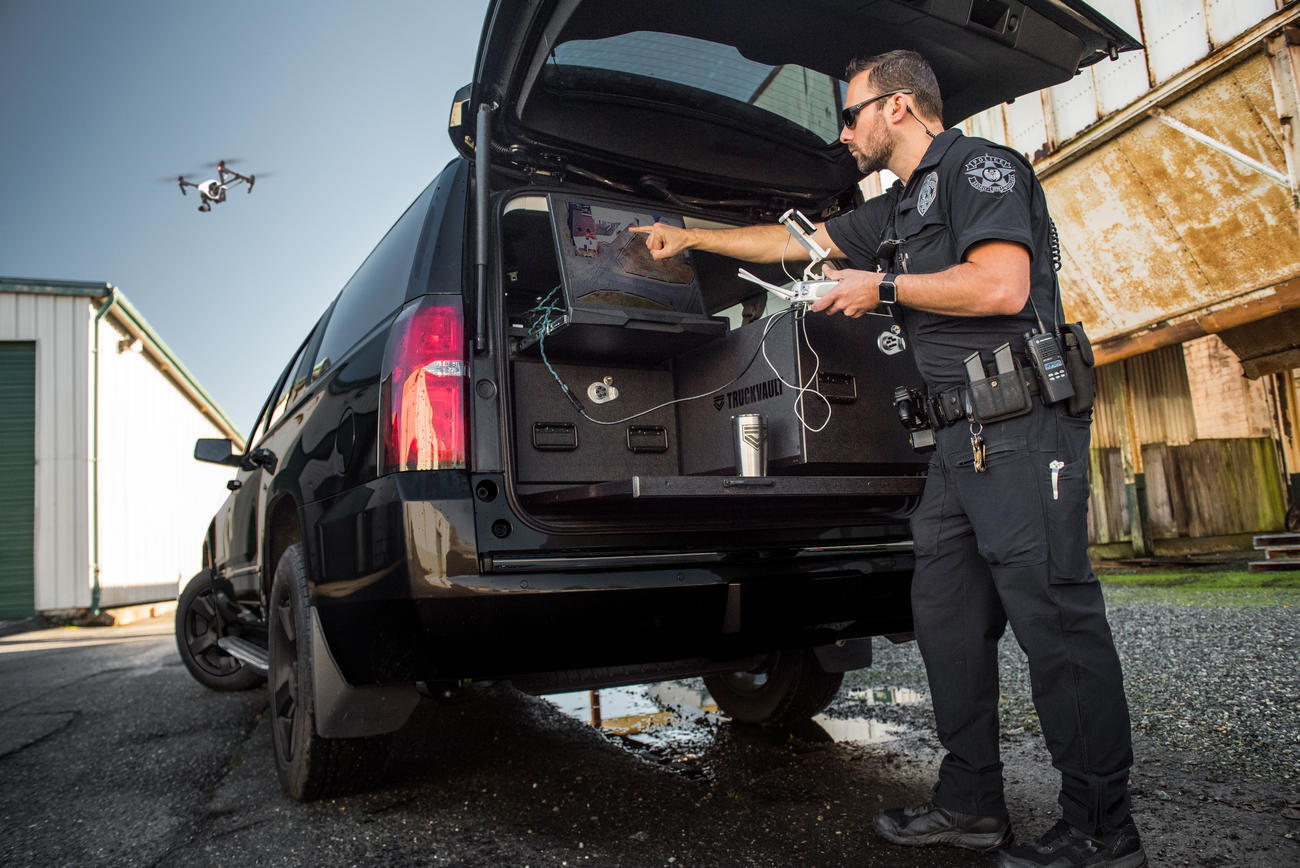 For federal departments and agencies, attempting to piece together a makeshift vault for the back of a rig can be a hassle, and an expensive one at that. James Bushey, a Police Chief in Wisconsin and Imaging Training Instructor at Adorama Business Solutions, knew this all too well until he encountered TruckVault. "We didn't have to build these kits in our garage ourselves," James said. "We could go and have one that was professionally built and well thought out and had everything we needed in a one stop shop, and for less than what we were building it out for piece by piece."
THE VERDICT
The good news is that a TruckVault system ensures that none of these bank-account-draining incidents occur, and you can have total peace of mind about the safety and security of your sensitive gear.