---
It seems like just yesterday that I was headed off to South Dakota to pick up Tucker. But in reality, that was 8 months ago and a lot of training and tons of fun has taken place since then. All in all, I could not be happier or prouder of the way Tucker has developed; he is after all just a pup still and my expectations of his first pheasant trip were certainly tempered. But after the first day in the field, other than a few glitches that will get worked out over more time hunting, I would have to say I could not be happier. He has definitely come with a lot of great "built-ins".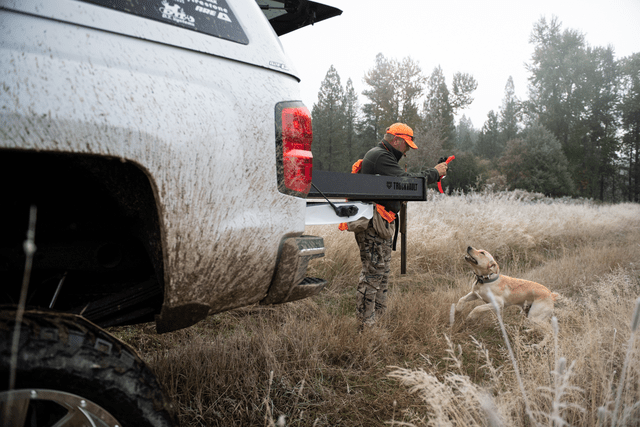 .Our original plans for Tucker's first hunt were to do a brother and father reunion trip to Ringneck Retreat in Hitchcock, SD. My good friend Darik Tschetter owns Tucker's father Noisy Boy and is his top lodge gun dog. He also owns the only other male (pick of the litter) of six yellow labs that Tucker came from. Unfortunately, an accident took place this summer and Darik's lodge burnt to the ground, so we had to change plans. An offer was tendered to us to go hunt at our TruckVault board member's lodge just outside of Missoula, MT and we accepted. It was here three years ago that we filmed my 13-year-old lab Drake on one of his final pheasant hunts so this made it an even more special hunt location. So, my uncle and his ten year old yellow lab Bella, Ross Roberts our video and photo guru, and Tucker and I all loaded up September 30th for the 10-hour trek to Crystal Creek Lodge. The trip over was uneventful. The predicted big snows did happen but much further north of our route in Glacier National Park. Our travels over Snoqualmie Pass (WA) and then 4th of July (ID) and Lookout Passes (MT) were bare and dry. When you arrive at the lodge at Crystal Creek it is a picture right out of the text books. Nestled among 700 acres of alder, aspen, pine trees, wetlands and grassland along a three mile stretch of the Clark Fork River — the lodge and its amenities are second to none. Comfortable rooms, excellent food and great company were the order of every day. It was here we were joined by TruckVault CEO, Al Chandler and his 5-year-old chocolate lab Addy, Ron Roberts and his 5-year-old black lab Sami, as well as five other gentleman who had come from various parts of the country, one as far away as New York, to enjoy a few days of pheasant hunting, trout fishing, sporting clays, and long range shooting. Lodge Manager and partner Matt set us up in our own field on the first day, away from the rest of the group. After getting set up and ready to go it was time to see if Tucker and my work leading up to this day would pay off. Tucker had not worked with live birds to this point but from the second we hit that field Tucker was all business, nose to the ground, and working with Bella. It wasn't long before they got hot and pushed out a nice rooster which I shot…..we were off to the races. There would be many repeat performances of this scene over the next couple days. You never know what you are going to get with a young dog on a first hunt. But what I witnessed was that Tucker had endless energy, was great at working close, picking up scent, locating the bird, flushing it, and then marking and getting to where it was down.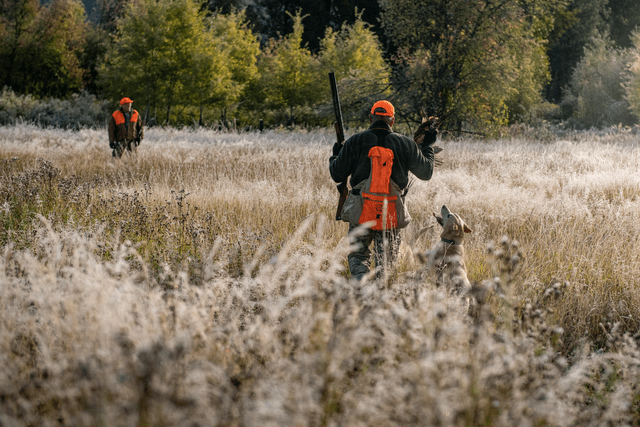 The glitch was Tucker would not bring the pheasant back to me! He was hunting with my uncle's dog Bella who would not retrieve pheasants either (she retrieves ducks til the cows come home) which we think was due to an incident that took place when she was younger, when a rooster spurred her pretty good. Her reluctance to bring them back may have had an influence on Tucker but I'm not sure. On day two something changed: Tucker, Bella, and I were hunting a bottom area off a large pond. We had taken a couple roosters as we first dumped into a field, but still no luck getting the dogs to retrieve to hand. As we walked along, the dogs were getting hot when 20 yards ahead of them I spotted a rooster slinking low in the grass and through a barbed wire fence into a sparsely grassed field with not much cover. He hunkered down about 20 yards into this field so I let the dogs through the wire, figuring I would get a clean shot as they flushed the bird from its hiding spot. Best laid plans of mice and men. The rooster gets on the move again as the dogs near it and next thing you know it's a 50-yard shot on a live bird going away. I let loose with both barrels, the first dipping the bird from behind and the second clean missing him. 600-yards or so later, losing oil pressure, I see the bird go down with the dogs in hot pursuit. I wasn't sure how alive the bird was going to be when they got there as I climbed the fence, but I got my answer as I watched them flush it again into a small stand of alders. I was on the whistle and halfway across the field thinking I was going to lose both dogs and would have to answer to my aunt and wife when I got back home when I caught a glimpse of the two of them running towards me. As they got closer, I could then see that Bella had the rooster in her mouth with Tucker trying to snatch it. She brought it all the way back to me laying it gently at my feet. They both got petted up good for that one and guess what…the next bird I shot Tucker brought back to me…well halfway! I couldn't wait to get back to tell my uncle the story. All too soon it was time to head back home.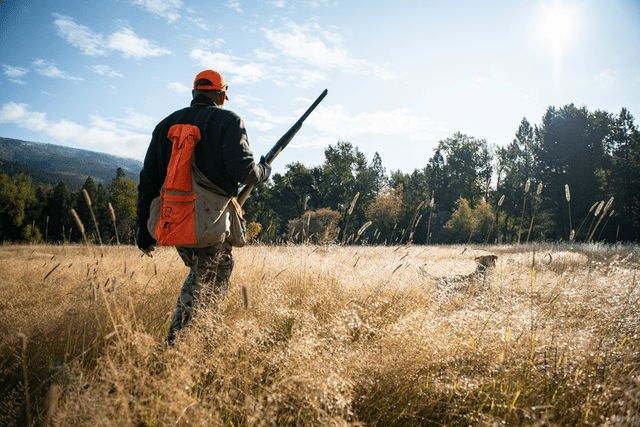 As trips like this go, it was not without its mishaps. Al's dog Addy hit a barbed wire fence at full speed going after a bird and suffered a gnarly gash to her front leg that required surgery at a local Missoula Veterinarian's office, ending her trip. All is well and she is no worse for the wear now and will be ready for the next hunt you can bet! Tucker and I will continue to work some release site pheasants here in Washington waiting for our duck lease to get some water.