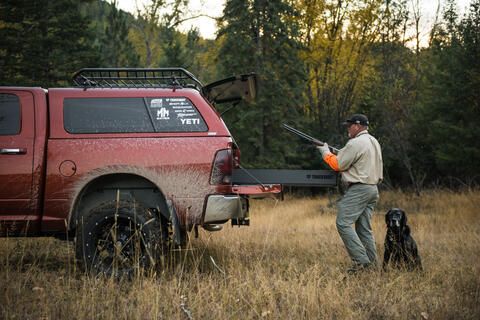 There's something undeniably special about the bond between a man and his bird dog. If you've had the joy of raising and training a puppy to hunt upland birds, you know just how indispensable a good dog is. "Upland bird hunting without a dog is like swimming without a pool," says our CEO, Al Chandler. "Just doesn't cut it." While nothing can replace your pup as your companion on an upland bird hunt, a TruckVault secure storage system is the perfect addition.
TruckVault is man's next best friend. Here's why:
1. PEACE OF MIND
Be it pheasant, grouse, partridge, or quail — the modern-day upland game hunter has a sentimental collection of gear that often takes years to accumulate, and the hours spent away from your vehicle open up the possibility of theft. Your spare guns, ammo, and dog supplies are left vulnerable if not locked up. The direct cost and the greater cost of liability can add up quickly, but with a TruckVault, you're given the clarity you need to shoot straight. "A TruckVault provides peace of mind security that your valuables left behind will be safe and secure and there for you when you return," explains Don Fenton, TruckVault's Media Director, and longtime upland bird hunter.
2. EASE OF ACCESS
No more throwing all your gear in a scattered pile in the truckbed when pheasant season rolls around. With drawers that extend the full length of your bed, and with tons of customization options, access and organization have never been easier. Knowing exactly where all your gear is stored makes a world of difference on those cold mornings and is incredibly helpful after the hunt. "It is also great to have a place to store dog assorted items, extra ammo, bird processing items, and a bottle of scotch to toast the day when the shooting is over and guns put away," says Al. We'll toast to that.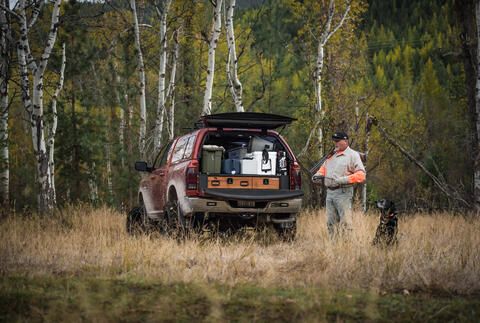 3. TRIED AND TESTED
On top of the TruckVault, there's plenty of room to store coolers, kennels, and more. You'll be able to stack up to 2,000 pounds on top, and with an All-Weather TruckVault, you can rest assured that no water or dust (or bird feathers) are sneaking their way into your expensive equipment. Toss a dog bed on top, and at the end of the day, your pup will have the best seat in the house (as they should).