---
TruckVault. If you break down the name you would assume that we make vault like products for trucks; of course in the beginning that would have been true. Over the course of 25 years however, our company has evolved from manufacturing only pickup builds to making products for SUV's, sedans and so much more. Today we manufacture products for virtually every make and model of vehicle on the road in both standard product lines as well as custom configurations to suit your needs. Let's take a look at a few of our most popular lines.
PICKUP // ALL-WEATHER LINE
Initially, we set out to make standard height pickup units for covered beds and we still manufacture those units today. But as time went by, we were asked to provide a product for an open bed pickup. With necessity being the mother of invention, we developed the first of its kind All-Weather line. These stout, ruggedly built units are completely armor coated and feature an industry leading 2,000 lbs. top load capacity. Integrated bulb sealed drawers backed by top of the line service body industry compression locks, ensure that anyone looking for waterproof, secure in-vehicle storage will get just that. Our All-Weather TruckVault® storage systems protect against more than just water, they protect your gear from dust, humidity, and even fire. These top of the line units are available in many drawer height and width configurations and feature many available accessories like integrated tie down rails, interior lighting, additional divider packages, your choice of wood or black composite drawer faces, interior carpet colors and more.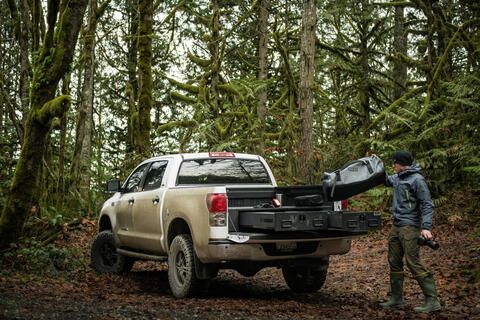 PICKUP // INTERIOR CAB LINE
Recently we had been asked to develop a secure line of products for the interior of pickups, primarily for under the rear seat in pickups. What we learned was that we had a good deal of customers who did not want to commit to using the entire back end of their pickup for secure storage. They really only needed to secure a long gun or two, maybe a pistol as well, or other valuables while traveling. With that in mind, our engineers set out to develop a line of products to fulfill this need, and the SeatVault was born. The SeatVault has quickly become a customer favorite, with its sleek design that provides security without taking up any extra space in your truck. SeatVault's can be configured into one or two top hinged doors that integrate with our standard low-profile Silver T-Handle locks or our more secure Kaba Simplex combination lock with key override. Each unit is finished off with true OEM interior carpet colors made to match the interior of your pickup. These lidded secure in-vehicle storage systems fit securely under your rear passenger seat and provide the ultimate in concealment and in-vehicle security.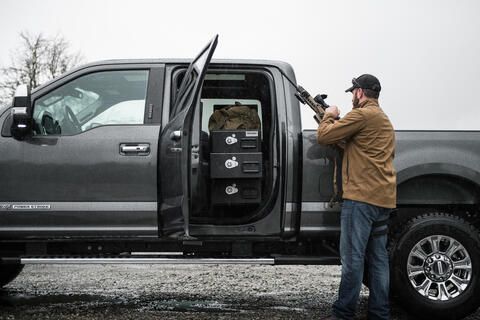 A super custom, super awesome custom SeatVault we did for a Federal agent.
SUV // ELEVATED LINE
Each year we are faced with vehicle model changes and rear cargo re-configurations; in the case of the Ford Explorer over the past few years that has certainly been the case. Due to the rear cargo compartment spare tire in requirement, and this being integral to the rear crash safety component, our engineers had to design a product that took this into consideration. One of the most popular and most affordable designs to come out of this process is our SUV Elevated Line. Our elevated line starts with an industry leading secure in-vehicle drawer solution mounted atop a system of rugged, powder coated, steel brackets. These brackets secure into existing mounting points in the vehicle providing a secure and stable platform for the drawer system to operate. The elevated unit provides ample space to remove your spare tire as well as providing storage for items that do not need to be secured under the unit. Priced favorably, these units have become increasingly popular among law enforcement departments nationwide.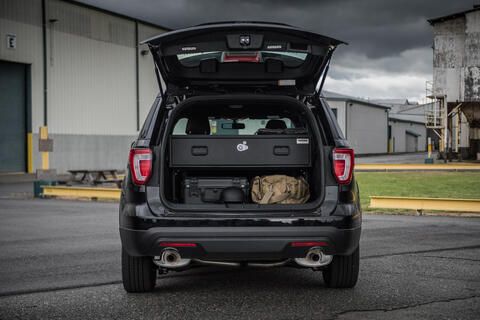 SPORT UTILITY SERIES // SUV BASE LINE LIFT SYSTEM
Sticking with the theme of providing secure in-vehicle storage systems for SUV's, we set out to develop a steel platform for our base and custom model SUV builds that would slide and lift — allowing the user to maintain spare tire access. Our TruckVault Lift System product was developed to allow you to place a full sized TruckVault in your Ford Explorer* and retain quick access to your spare without a hassle. TruckVault's Lift Technology uses four 120 lbs. heavy duty gas springs to make lifting the entire unit a snap. Dual locking star knobs on either side of the unit securely keep your TruckVault in place until you need to access to your spare. The Elevated Line Lift System secures to your vehicle using factory locations with no fabrication needed. Simple in design, its all-steel construction is engineered for heavy service and will last throughout the life of the vehicle.
*The Lift System can only be packaged with Base Line product models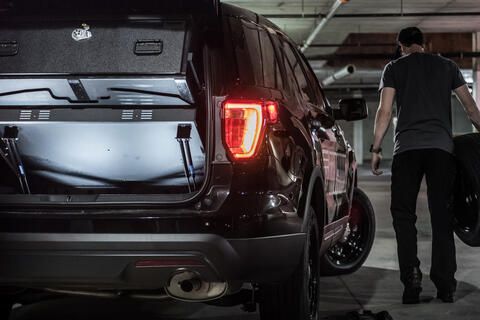 SEDAN SERIES // SEDAN BASE LINE
Years ago we launched our TrunkVault line designed to fit in the old Crown Victoria patrol cars. It became wildly popular in the Law Enforcement community so of course it made sense to build for the civilian market as well. Nowadays we just call this our TruckVault Sedan Base Line series, though some still like to call it a TrunkVault. We make these sedan builds for all different models from your favorite car manufacturers. This product is perfect for any user who needs a high level of secure storage in the trunk of their daily driver, whether it's for a concealed carry or to transport . Our single drawer base line in this model mounts to the floor of the vehicle to maximize secure storage space in this area. We also offer an elevated line for this model.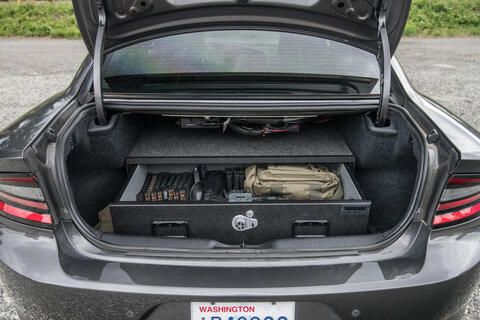 Above are just a small handful of the products we offer. A quick tour through our website www.truckvault.com will have you finding a plethora of builds for all makes and models of vehicle and for all sorts of applications. An easy to use configurator will allow you to custom build your own TruckVault for your specific vehicle.
Short on ideas? Visit our media Gallery at https://truckvault.com/media where you can break down your search by Vehicle and Activity. We're also active on a couple social media platforms, check us out:
Instagram: https://www.instagram.com/truckvault_usa/
Facebook: www.facebook.com/TruckVault/
YouTube: https://www.youtube.com/channel/UCP7ptkJWkGf1FIrVGrsA1hw
LinkedIn: https://www.linkedin.com/company/truckvault/
If you still don't find what you are looking for please give us a call at (800) 967-8107 to speak with any one of our friendly Public Safety or Sport Representatives, they are always (or at least from 7am-4pm PST) standing by ready to assist you in providing the best information on the best secure in-vehicle storage product on the market.