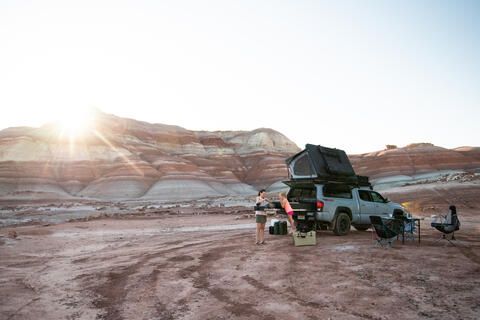 Camping with kids isn't easy, especially when trying to fit all your gear, finding a place for everyone to sleep, and making meals. That's where the TruckVault Base Camp Line comes in. Though we'd highly recommend the Base Camp 1 for small families, each model in the Base Camp Line boasts a different configuration opening up possibilities for sleeping, storage, and cooking while on the road with the crew. Here's 3 ways that works:
Cozy Sleeping Platform
One of the first concerns while camping with family is, "Where is everyone going to sleep?" The Base Camp Line includes sleeping platforms for up to 2 people, perfect for the kids, which means more room in your rooftop or ground tent. Grab a nice car camping mattress and a sleeping bag and you've got the ideal truck camping sleep setup. "The sleeping platform was perfect," explained Laura Roberts. "I was able to lay the kids down in a quiet, warm and comfy space."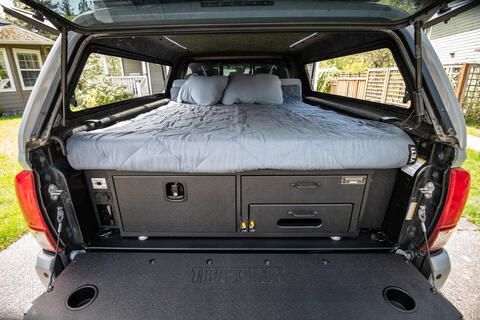 Storage for Your Camping Needs
TruckVault is known for secure storage capabilities among overlanding communities. "Driving the family from Alaska to Argentina required a drawer system that could secure all our stuff," said the world-traveling Lally family. "TruckVault brought it all together."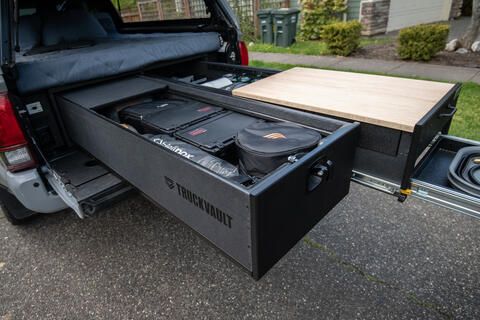 All our Base Camp models come with some form of secure storage, an ever-increasing necessity while living on the road. Between the family members, you're bound to have lots of expensive or sensitive gear that needs safekeeping, and that just happens to be our specialty.
Feeding a family
With all those mouths to feed, you'll need more than a two-burner. Our camp kitchen drawer (included in BC1 and BC5) integrates stove storage with utensil drawers and a massive cutting board for slicing and serving.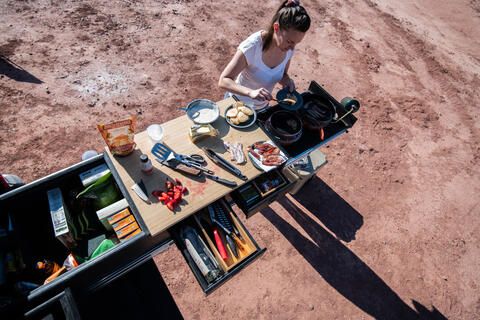 We can't guarantee a seamless family adventure, but we can guarantee the Base Camp Line will elevate your sleeping setup, your storage capacity, and your cooking capabilities.