Here at TruckVault we've had the opportunity to build some really unique systems and be a part of some really cool rigs. We're proud to offer unparalleled craftsmanship and the best materials for every product we make. Still, some builds are so unique that they have been added to our "greatest hits" list. Here are our top 10 favorite builds of all time. Let us know which one is your favorite!
"The Backseat Driver"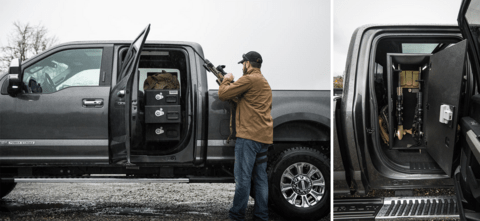 This custom build completely repurposed the back seat of a Ford Super Duty with 3 horizontal drawers on the driver's side and one vertical gun locker on the passenger's side. It's the perfect mixture of security, accessibility, and bad-assery.
"The Boombox"
Our very own West Coast Territory Rep took her Chevy Tahoe build to a new level when she installed subwoofers in the system. This was definitely a challenging build, but the results speak for themselves. The windows may shake, but the TruckVault storage system doesn't.
"The Cubby Slider"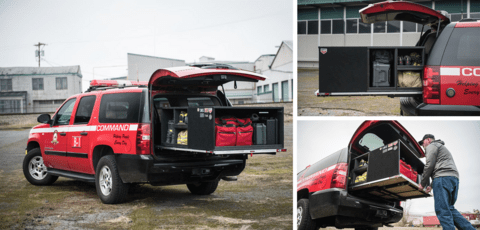 This cubby slider build for Sedro-Wooley fire department is another build that definitely makes our list. The department came to us looking for a new way to have its' essential gear organized and easily accessible. The entire system can slide out of the back moving the gear into reach within seconds, no matter how it was stowed.
"The MK-71"

This extremely customized Cadillac Escalade has a FLIR camera, 360 degree police style lights, a custom cockpit, and much more. For this build we partnered with ai Designs to bring the idea to life. It's equipped with an offset TruckVault system for maximum storage and security. This vehicle even has its own blog post if you want to learn more.
"The Gladiator AKA Spartacus"
This Gladiator was built by Camburg Racing and Sig Sauer for Shot Show 2020. If anything on the truck could be upgraded, it was. From axels, to lights, to the storage system this rig is all top of the line. We installed an all-weather TruckVault storage system in the back to secure and protect the Sig rifles that accompany the rig. So no matter where the vehicle goes, the firearms will be secured and protected.
Black Rifle Coffee Company's Back Country Access Truck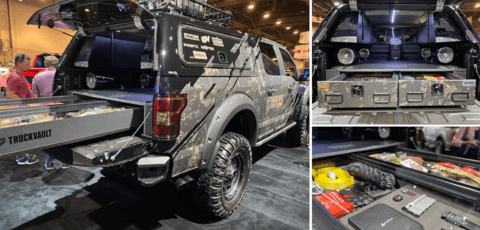 This F-150 was built with Black Rifle Coffee Company and has over 50 thousand dollars in upgrades and modifications. There is an All-Weather TruckVault system in the bed that holds all the coffee needed for the brewing equipment that is stored in the canopy. We don't know where they'll take this vehicle, but we know nobody's stealing their coffee.
The Duracell "Rapid Responder" (left) and "Rugged Responder" (right)
Part of Duracell's Power Forward fleet, these vehicles are designed to drive into areas affected by natural disasters and distribute batteries, Wi-Fi, and charge peoples' phones. Duracell approached us to find a system where they could store the thousands of batteries they were going to be giving away and we gave them the solution. These TruckVault systems are truly helping people and we're proud to be a part of the effort!
"The Blue Streak"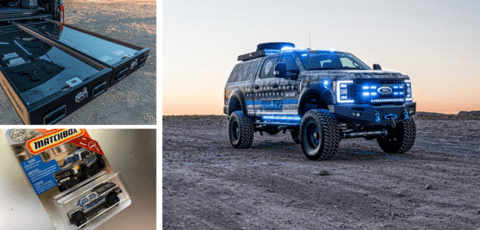 This beefed up F-350 Super Duty is not to be messed with. With too many upgrades to count, it serves as a tribute to law enforcement and is equipped with everything necessary for it to be used for police work today. The Covered Bed TruckVault system stores Glocks and 5.11 Tactical gear. This build was so special that Matchbox even made a vehicle to honor it.
"The #Vanlife Sprinter"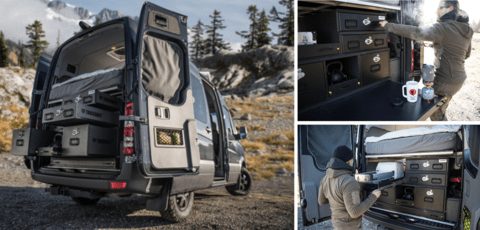 Home is truly where you park it in this Sprinter van with custom drawers built for all kinds of equipment from kettle bells to water tanks. Built around the owner's needs, it works perfectly as one of the only storage options available when the van is traveling from place to place.
Tim Duncan's "Half-Court Shot"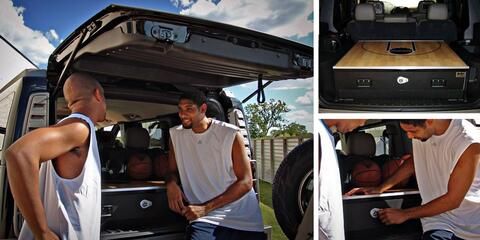 We were once tasked to build a custom basketball themed system for basketball legend Tim Duncan. It was a one drawer system complete with a basketball court top. This build is truly unique, and we made sure to include this build in our list because Tim Duncan has just been elected as a member of the Basketball Hall of Fame class of 2020. Congrats Tim!
The possibilities for our products are almost endless. Limited only by our customers' imaginations, we can build pretty much anything for anybody. Whether you drive a smart car, a jeep, a van, or a truck, TruckVault is proud to offer you the best products custom built to fill your needs whatever they may be.