TRUCKVAULT'S BASE CAMP LINE IS THE BEST OVERLANDING SYTEM
Searching for the ultimate overlanding system? TruckVault is the one-shop-stop for fully customizable truck camping solutions. Whether out on adventure, back at the camp, or on the road, you can trust TruckVault's Base Camp Line for weekends or months spent exploring the wilderness.
OUT ON ADVENTURE
One of the most important elements of life on the road is security. Luckily, secure storage is what we do. Between firearms, fishing rods, laptop, camera gear and grill, you've got a lot of expensive gear to store, and it's vital for your lifestyle (and your wallet) that your stuff stays safe. Borrowing from our flagship products, Base Camp's lockable drawer storage ensures your gear remains secure back at the trailhead while you are out on adventure.
BACK AT CAMP
There's nothing like getting back to your basecamp after a long day out. Our Base Camp units are designed to fit your vehicle and your needs, providing the perfect combination of sleeping, eating, working and playing for your lifestyle. Options include, but are not limited to
Pull-out camp kitchen
Cutting board work surface
Sleeping platform
Cubby storage
Electrical outlets
A fan favorite, the camp kitchen features stove storage, utensil/spice drawers, and a cutting board that doubles as a work surface. Everything pulls out from the truck bed and collapses back in when you're done. After dinner, plug in your phone, pull out a book from the cubby storage, and relax on the truck bed sleeping platform before catching a few winks. Wake up the next day rejuvenated and prepared to do it all over again.
ON THE ROAD
Restless and ready for somewhere new? Our camping gear storage drawers slide in and lock up to collapse your camp setup into a few square feet in the back of your vehicle. Remove a sleeping platform and gain vertical space, stack bins on top of the drawers, and free up your backseat. The organization opportunities are endless. While you're flying down the freeway, the gear in your drawers won't rattle around thanks to Base Camp's carpeted interior, and additional custom-fit dividers and foam insert options. Simply pull up to your new destination and set up your Base Camp for the perfect overlanding experience.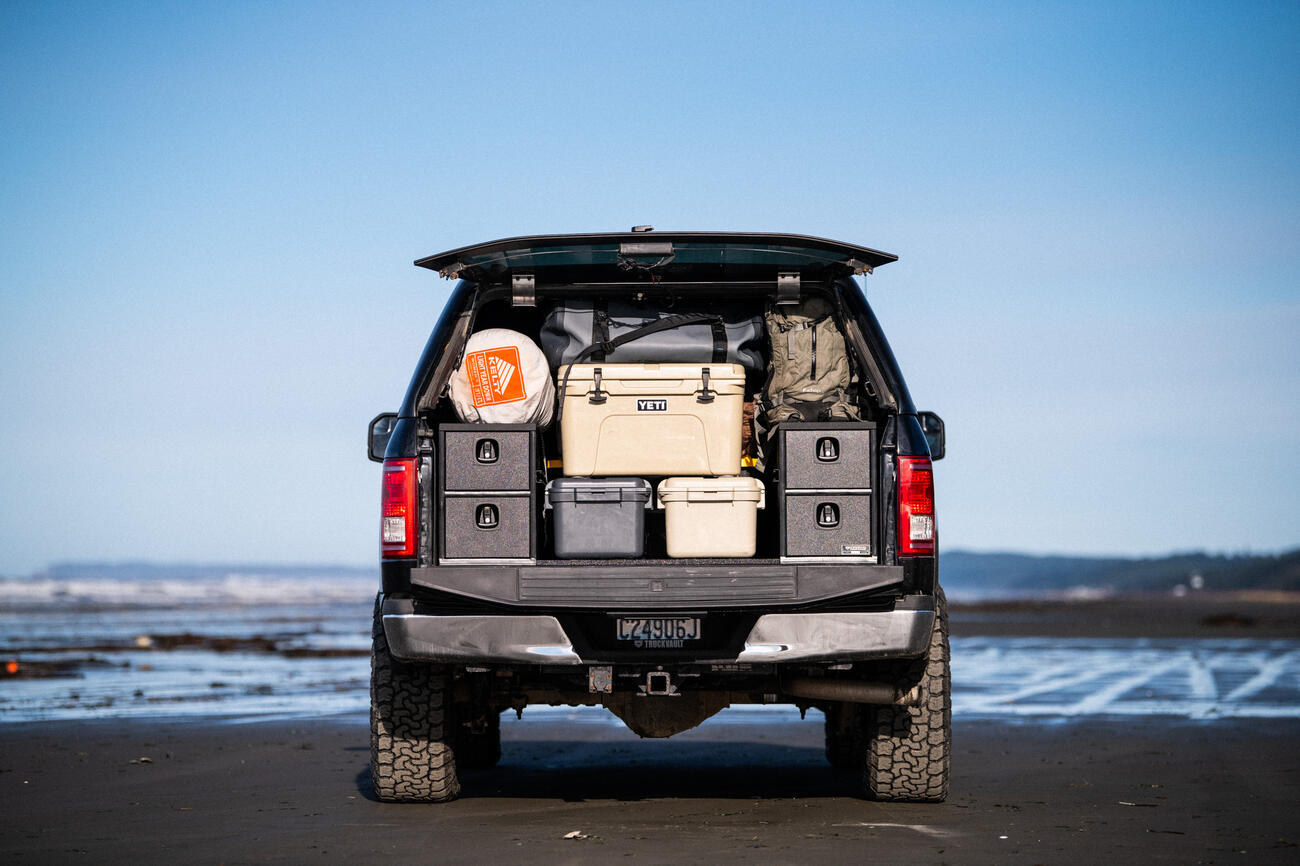 "My experience living out of the TruckVault Base Camp system was perfect," says Clint Easley, founder of REVOL entertainment. "When working on the move it's all about security, efficiency, and comfort. Truck Vault surpassed my expectations and checked every box."